Posts Tagged 'pedestrian accident lawyers'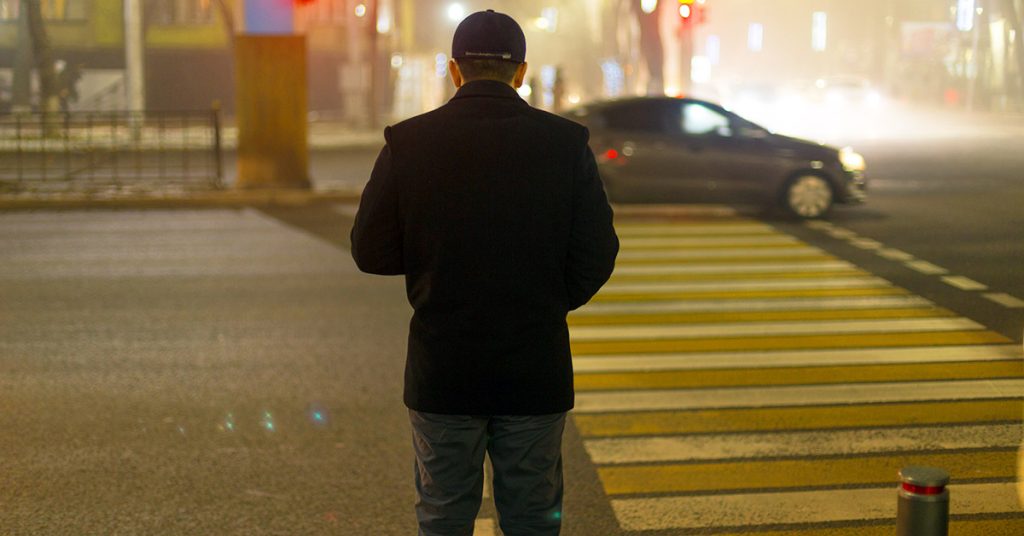 The majority of all pedestrian fatalities occur at night or in dark light conditions, according to the National Highway Traffic Safety Administration (NHTSA). This is a significant point come October in Massachusetts, when the days get shorter and the walk home becomes darker.
As a driver, renew your commitment to travel safely near pedestrians this Fall. This is critical. In addition to shorter days, Massachusetts is seeing a rise in pedestrian fatalities as traffic volumes start to rebound. In August, the Massachusetts Department of Transportation (MassDOT) reported traffic volumes had returned to just 5 percent below pre-pandemic levels in 2019.
As of October 21, 2021, 58 pedestrians have died on Massachusetts roads this year, according to MassDOT crash data. 55 pedestrian fatalities were recorded in 2020, when traffic was lightest due to Covid 19 stay at home policies. Prior to the pandemic, there were 78 fatal pedestrian injuries statewide in 2019.
There have been 1,086 total pedestrian accidents reported in 2021 so far, including those involving fatal injuries, non-fatal injuries and property damage without injury, compared to 1,443 pedestrian crashes in 2020 and 2,198 pre-pandemic in 2019. (Source: MassDOT, 2017-2021 Pedestrian, Cyclist and Motorcyclist Crashes by Injury).
While helpful, the data is just a snapshot. A better resource: ask anyone who walks if driving patterns are still irregular due to the pandemic. Roads may be less congested, but drivers are picking up speeds at times. This endangers pedestrians, especially at night, when there is less visibility.
Reminders for Driving Safely Near Pedestrians and Reducing the Risk of Injury
Drive Slowly and Watch for Pedestrians
Drive slowly and always look for pedestrians. Take an extra moment to look in all directions before you step on the gas. Pedestrians are more likely to blend in at night, even in well-lit areas.
Yield and Stop at Crosswalks
Drivers have a responsibility to yield to pedestrians before turning at traffic signals and to stop or yield for pedestrians to safely walk through crosswalks. Many pedestrian accidents at night occur in intersections and crosswalks.
Once you start moving, you can attempt to break quickly but you really have less control, especially in short distance situations, such as when turning at an intersection or backing out of a parking space. Take a moment and take a good look for pedestrians first.
Give Yourself More Time When Getting in Your Car
Drivers can reduce their risk of hitting a pedestrian by giving their full attention to the road. To do this, give yourself time to get ready for the ride while you are parked: buckle your child up and set up your cell phone in hands-free mode if you plan to use it. Make sure you have directions typed into your GPS or you know where you are going. 
When you are finished, then give yourself time to turn on the vehicle and look for pedestrians. 
Drive at Night Without Distractions
The state of Massachusetts now allows drivers to use cell phones in hands-free mode, but this can be a dangerous distraction when driving at night. The best policy is to pull over in a legal parking space if you need to call someone and avoid causing a car accident or truck crash, resulting in pedestrian injuries.
Reduce Your Speed
During the day and at night, you give yourself more time to stop for pedestrians when you travel at the speed limit or below if necessary for safety conditions.
Look for Both Pedestrians and Cyclists
Pedestrians may or may not wear bright clothing, so you have to really check when you drive at night or in the early morning.  Pedestrians may be hard to see, even when traveling through a well-lit intersection or parking lot.
Cyclists may be easier to see as they approach. In Massachusetts, cyclists must use a white headlight and red taillight or rear reflector at night, or specifically from ½ hour after sunset until ½ hour before sunrise under M.G.L. c. 85, § 11B. 
This means you may see a white light when a cyclist is approaching and red light (or reflector) from behind. You may also see reflective material on a cyclist's pedals.
Consider the Impact of Darkness on Drivers
It is simply harder to see at night. Not just for senior citizens. Age-related vision changes can pay a toll much earlier than retirement age. For instance, a 50-year-old driver may need twice as much light to see as well as a 30-year-old, according to the National Safety Council. It is critical for all drivers to schedule an annual eye exam, get proper rest and set aside distractions.
Older Drivers
Still, older drivers may struggle the most when driving at night. At 60 or older, drivers may not see as well at night and may suffer from a loss in color and depth perception, making it harder to judge speeds and distances, according to the American Optometric Association.  
Safety precautions for older drivers traveling at night:
Have an annual eye examination.

Consider taking a driving class to brush up on your driving skills and learn about age-related vision changes. The AARP offers courses and other organizations may also.

Limit or avoid driving at night.

Reduce your speed and expect pedestrians.

Be cautious at intersections, taking extra care to yield to pedestrians.
Limit Teen Driving at Night
As a parent, let your teen drive during the day, but consider limiting their driving hours at night this Fall. Teens are still learning and driving safely at night takes practice. And right now, traffic is even less predictable and your teens may be driving alongside more trucks and delivery vans as we approach the holidays.
This is a suggestion. But remember under the Massachusetts Junior Operator Law, teens are not permitted to drive at all between 12 a.m. and 5 a.m.
Free Legal Consultation – Boston Pedestrian Accident Attorneys
Breakstone, White & Gluck is a top-rated Boston personal injury law firm. With more than 100 years combined experience, our attorneys provide thorough and aggressive representation to those injured by negligence across Massachusetts, including in Boston, Cambridge, Winthrop, Arlington, Somerville, Everett and Chelsea. We also serve clients across the state, including in Quincy and the South Shore, Hyannis, Barnstable and Cape Cod, Framingham, Worcester and the Danvers and the North Shore.
Our firm specializes in representing pedestrians and cyclists who have been injured in auto accidents, truck accidents and bus crashes, including MBTA bus accidents in the city of Boston.
For a free legal consultation, contact our firm at 800-379-1244 or 617-723-7676 or use our contact form.