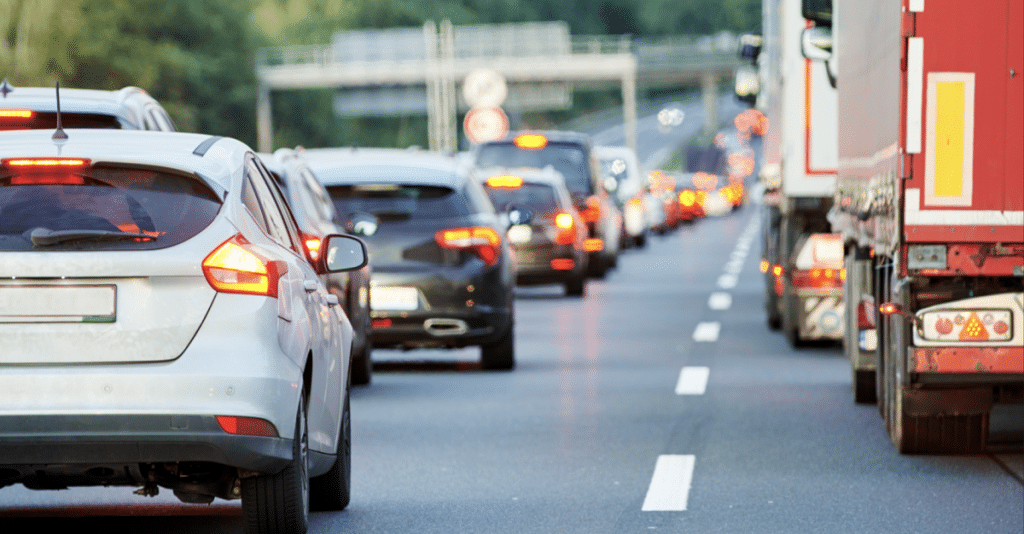 When a driver causes a crash, they have a legal responsibility to stop and provide you or the victim with their Massachusetts driver's license, vehicle registration and license plate number.
Sadly, many drivers keep going. National figures show 24 percent of all 2021 pedestrian accidents were hit-and-run crashes. These drivers take off with the important information a victim needs to pursue a full insurance claim and compensation for their medical expenses and financial losses in recovery.
What can you do? Look for the Massachusetts license plate. In most cases, the person injured will not have a chance to look. But witnesses may be able to catch this information and make a real difference.
Research has found people who see a license plate for three or fewer seconds can remember an average of 3.5 characters. That memory quickly fades. If you witnessed a crash, the best way you can help is by:
Writing down the license plate number.
Taking a cell phone photo of the license plate number.
Using your phone to make a voice note of the license plate number.
Taking note of a partial plate number.
Breaking Down the Massachusetts License Plate
Before your next drive, take a closer look at the Massachusetts license plate so you know what to expect.
First, a bit of history: Massachusetts was the first state to issue a motor vehicle license plate back in 1903. Starting with "1," the state issued more than 3,000 plates in the first year, according to the state library archives. Today, license plates are made at the Massachusetts Correctional Institute – MCI Cedar Junction.
Massachusetts license plates have a maximum of six characters, a combination of letters and numbers.
But your first thought about Massachusetts license plates may be the open road and, "The Spirit of America," from the popular 1980s tourism campaign.
Not all Massachusetts license plates carry this slogan across the bottom. The state also issues passenger normal plates with a white background and green lettering, according to the Registry of Motor Vehicles Passenger Plate Manual.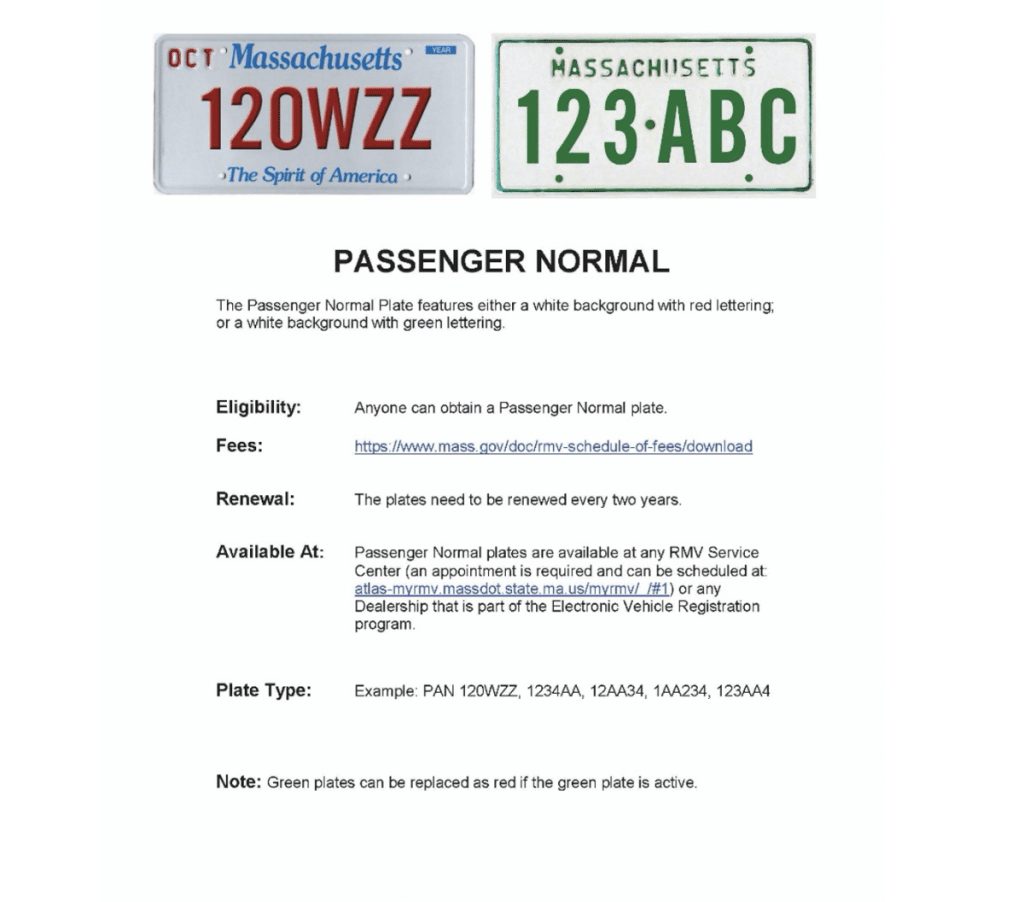 Massachusetts Passenger Plates. Source: Page 4 of the Massachusetts Registry of Motor Vehicles Passenger Plate Manual
Here are a few basics:
All vehicles registered in Massachusetts should have a front and back license plate.
Like street signs, license plates are designed to reflect under headlights.
Close up, you can see license plates are marked with the year and month of registration along the top.
You can also see the "Strand of DNA," in this WGBH news video.
Massachusetts Vanity and Specialty Plates
A few license plates break away from the traditional in Massachusetts and may be a little easier to remember. The RMV offers vanity plates. For an extra fee, you can choose two to six characters of your choice. The state maintains discretion over appropriate combinations.
The state also offers more than three dozen specialty license plates, including the Boston Red Sox design and charity plates. Specialty plates are unique. For example, these may have two letters vertical, followed by the numbers.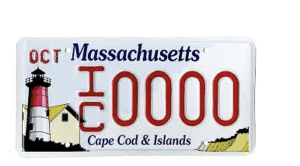 Cape Cod & Islands specialty plate. Source: Massachusetts Passenger Plate Manual.
Capturing License Plates and Car Accidents on Video
When a driver flees, a vehicle, crash and license plate may still be accessible if captured on camera. There are a number of potential sources for video. The search and negotiation for video must begin immediately after a car crash.
At Breakstone, White & Gluck, our attorneys have extensive experience in the area of video evidence. We are committed to locating video early to provide our clients with the most favorable position in negotiations with insurers.
From Our Experience: Negotiating for Video Evidence for One Client
One of our attorneys represented the family of a woman who was struck and killed in a pedestrian accident near a supermarket in the Boston area.
This was a devastating experience, one that became more painful as our attorney investigated. There were no witnesses in the early morning car accident, except for the driver, who remained on the scene, but was not forthcoming with police officers about the details of what happened.
Our attorney learned the supermarket's security team was in possession of video surveillance, which was good news.
However, the security team was reluctant to release the video. Our attorney worked with a commitment to preserve and recover the video evidence for the victim's family. When he did, the video proved to be powerful evidence that showed the driver's negligence.
Read more about this pedestrian accident case on our website.
Free Legal Consultation – Boston Car Accident Lawyers
With more than 100 years combined experience, Breakstone, White & Gluck is known for our results for victims of car crashes and pedestrian accidents in Massachusetts. For a free legal consultation with one of our partners, contact Breakstone, White & Gluck at 800-379-1244 or 617-723-7676 or reach out using our contact form.