Tips to Protect Older Pedestrians From Vehicle Crashes During the Cold and Dark Winter in Massachusetts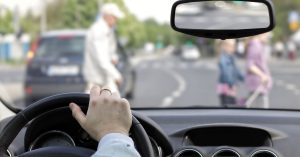 It is a fact: pedestrians age 65 and older face an increased risk for being injured by a car accident or truck crash. According to the Centers for Disease Control and Prevention (CDC), pedestrians of this age accounted for 1 in 5 pedestrian deaths in the U.S. They also suffered 1 in 10 percent of all injuries.
November, December and January are among the darkest months of the year in Massachusetts. At Breakstone, White & Gluck, our lawyers caution all pedestrians take steps to protect themselves. Start before you leave home. One of the most effective steps you can take is to wear a neon colored vest, jacket or other accessories so drivers can see you.
Safety Tips for Older Pedestrians
Arrange for a Ride. During the winter months, ask a friend or family member to give you a ride to the store and help you with other errands. If you do not have someone, call your local town or city hall to speak to their Council on Aging, which may be able to help arrange you a ride. You can go back to walking in the Spring when there is better visibility.
Use Crosswalks. In Massachusetts, pedestrians have the right of way when walking across the street in a crosswalk which has a "Walk" signal or green light.
Do Not Cross the Street Alone. Look for areas where there is a crossing guard if you can. Also look for areas where there are other pedestrians crossing. Do an honest evaluation; if you are walking much slower than other pedestrians, you should only cross when there is a crossing guard or accept a ride.
Avoid Complicated Intersections. Rather than walking through complex intersections, either accept a ride or change your route for the winter months. Also stay clear of wide intersections or roads with traffic passing in both directions.
Be Mindful of Traffic Conditions. If you walk, do so during daylight hours and when traffic is lightest. This is not just advice for crossing the street. Keep this in mind when you are walking through parking lots, where there is a high risk for pedestrian accidents at night.
Find Another Way to Walk For Exercise. Many of us – young and older – like to incorporate some walking for exercise into our daily routines of work and errands. If you miss walking, find a way to walk off the street. Due to COVID-19 restrictions, it is not safe to work out at a health club or gym. You may have to explore other options for exercise this year, such as hiking or even just walking on a lawn. Again, we encourage you to ask friends, family members and others in your community for suggestions.
Safety Reminders for Drivers
Use Reasonable Care and Travel Slowly. Massachusetts drivers have a responsibility to use reasonable care when driving. During the winter months, this means watching for pedestrians at all times, including when you get in your car and when you park. This is the time to utilize your vehicle's back-up camera. Also watch when you exit your vehicle so you avoid dooring a pedestrian or a cyclist.
Travel Slowly. You cannot control all traffic conditions. But you can control your speed. By traveling slowly, even under the speed limit in residential neighborhoods, you have a greater ability to stop for pedestrians and avoid a pedestrian crash. This is important because older pedestrians are likely to take more time to cross the street. Many pedestrian car crashes occur because a driver misjudged the pedestrian's speed.
Approach Familiar Places With Caution, Too. Take care even when driving near familiar places, such as a friend's home, the pizza place down the street or a nearby grocery store. At night, there is a different traffic pace. During the pandemic, the pedestrian and vehicle traffic is changing weekly. There is a greater chance of car accidents in these conditions.
Be Aware of Eye Strain. If prescribed, drivers should wear their glasses at night. The rest of us should also be aware of the risks of eye strain and drowsiness at night. When possible, keep night driving trips short to keep your eyes strong.
Do Not Use Cell Phones. Months after the Massachusetts Hands-Free Driving Law took effect, drivers should know there is no tolerance for picking up a cell phone. The act of dialing a number and cradling a phone takes a driver's attention off the road for at least several seconds. Drivers have caused many pedestrian crashes through cell phone use. On the same note, pedestrians should set aside cell phones while walking at night near traffic and minimize distractions.
Free Legal Consultation – Breakstone, White & Gluck
Breakstone, White & Gluck has represented pedestrians injured by negligent driving in car accidents, bus crashes and truck collisions across Massachusetts, including in Boston, Cambridge, Quincy, Somerville, Chelsea and Everett.
If you have been injured by the negligence or wrongdoing of someone else, learn your legal rights. Breakstone, White & Gluck is an accomplished Boston law firm known consistently recognized for our results for clients, including by Top 100 New England Super Lawyers, Top 100 Massachusetts Super Lawyers and Best Lawyers in America.
In Boston, we are known for our experience and expertise in representing pedestrians who have been injured in MBTA bus accidents. We won a landmark personal injury case, resulting in a $7.1 million verdict for our client, after trial and appeals to the state's highest court. Our client had the horrific experience of being struck by a MBTA bus in a South Boston crosswalk. The driver had admitted fault, and the MBTA police investigation confirmed the finding. But the MBTA refused to even make an offer of settlement and our attorneys pursued an award at trial.
For a free legal consultation, contact Breakstone, White & Gluck at 800-379-1244 or 617-723-7676. You can also use our contact form.