Westwood families received free bike helmets for their children and learned about cycling and pedestrian safety at Westwood Town Day on September 27th.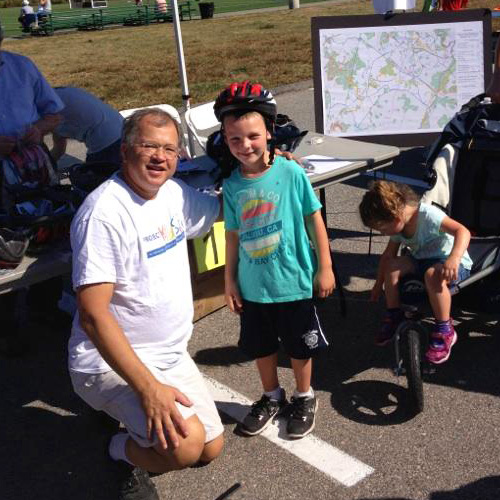 The Westwood Pedestrian and Bicycle Safety Committee hosted an informational table at the town celebration which was held at the Westwood High School. Breakstone, White & Gluck donated 150 bike helmets which were distributed to children age 16 and younger. The helmets went quickly at the annual event, which offers a fireworks display, music, food and road races for adults and children over the course of two days. Committee members fit children for the bike helmets and explained the importance of always wearing them. Attorney David White, a Westwood resident and committee member, helped fit the helmets.
In Massachusetts, children age 16 and younger are required by law to wear bike helmets. Cyclists of all ages should wear helmets to protect themselves and reduce the risk of head and brain injuries. Many cyclists neglect to do this. In fact, less than half of all cyclists actually wear helmets, according to the Centers for Disease Control and Prevention.
Breakstone, White & Gluck donated the helmets as part of Project KidSafe, our community service project to help prevent injuries among children. Our firm's specialty is handling personal injury cases for those who have been injured, so we know firsthand the importance of injury prevention. We are devoted to keeping children safe. This is the second year we have donated bicycle helmets to organizations around the state. So far, we have donated over 2,000 helmets.
Continue reading