Bicyclist and Pedestrian Deaths Keep Rising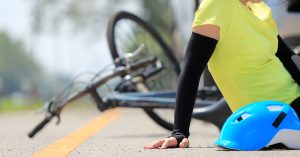 New federal data shows a 2.4 percent reduction in overall traffic deaths last year. But that's not the full story. The roads were not any safer for pedestrians and bicyclists last year. These groups saw an increase in deaths, now making up nearly 20 percent of all traffic deaths. Many say it's time to accelerate the conversation on safe road design.
The Washington Post recently reported on the new data, which comes from the National Highway Traffic Safety Administration (NHTSA)'s Fatality Analysis Reporting System.
It shows nearly 36,600 people died in traffic accidents in 2018, a 2.4 percent decrease from 2017, according to The Washington Post. Traffic experts cite several areas of progress. There were fewer deaths caused by speeding and drinking and driving, and a 10 percent reduction in children's fatalities. Motorcycle fatalities also declined about 5 percent.
What remains troublesome is bicyclists and pedestrians are at high risk. Bicycle accidents and pedestrian accidents are claiming more lives than ever – about 20 percent of all traffic deaths combined. This is a sharp rise, particularly in pedestrian deaths. Just 10 years ago, pedestrians made up 12 percent of all traffic deaths. They now represent 17 percent of all traffic fatalities.
The data shows that 6,283 pedestrians were killed in 2018, a 3.4 percent increase. Another 857 people were killed on bikes or similar non-motorized vehicles, a 6.3 percent increase.
With this new data, many are considering our nation's antiquated roads, which the Governors Highway Safety Association says were not designed to accommodate so many pedestrians and bicyclists. Over the past decade, cities have encouraged walking and biking as a way to beat the traffic congestion. But use has far exceeded the visions of planners, especially when you considered developments, such as bike-shares, e-scooters and self-driving cars.
The Governors Highways Safety Association further stated that a combination of initiatives would be necessary to improve safety for pedestrians and cyclists, from road engineering to educational approaches.
Pedestrian and Bike Safety in the Late Fall in Massachusetts

This is a challenging time of the year for bike commuters and pedestrians in Massachusetts. The days are getting shorter and darker. And you have to be aware of the statistics. According to the NHTSA data, about 76 percent of pedestrian traffic fatalities occur after dark.

If you walk, consider keeping a neon safety vest in your work bag. Wear it when you go to work and as you leave work. Continue to use crosswalks with traffic signal buttons. Cross with other people.

If you ride your bike, wear your bike helmet and use bike lights. Bike lights are required under Massachusetts law. You must have a white light in front of your bike and a red light in back. Read our article, Facts About Massachusetts Bicycle Laws, to learn more.
Free Legal Consultation – Boston Pedestrian and Bicycle Accident Lawyers
With more than 100 years combined experience, Breakstone, White & Gluck is a leading personal injury law firm in Boston. Our attorneys specialize in representing those injured in motor vehicle accidents, including pedestrians and bicyclists, in Boston, Cambridge and across Massachusetts. If you have been injured, learn your legal rights for seeking financial compensation for your losses, including medical expenses, lost wages and pain and suffering. For a free legal consultation, contact us at 800-379-1244 or 617-723-7676 or use our contact form.