Posts Tagged '"CYCLE Kids"'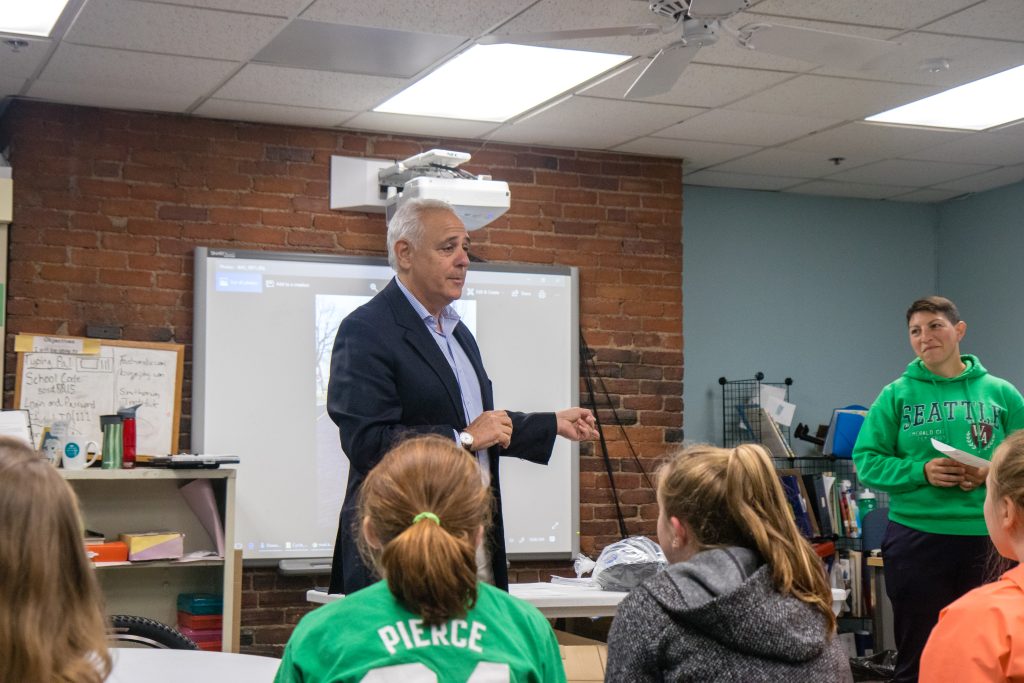 For the fifth year, Somerville 5th graders have met our challenge. Our lawyers are pleased to send 370 students into summer with a free bicycle helmet from Project KidSafe, our campaign to encourage safe cycling and prevent head injuries.
The students earned the helmets by completing the CYCLE Kids curriculum, which teaches bicycle safety fundamentals. CYCLE Kids is offered as part of physical education classes at Somerville public schools. Through CYCLE Kids, some students in Somerville learn how to ride a bicycle for the first time. Others gain valuable experience or take other cycling firsts – such as riding with friends for the first time or their first ride on the Somerville Community Path.
"It's all about your brain. Your brain is going to take you through life," Attorney Ron Gluck told 5th graders at the Benjamin G. Brown School on Monday. "So protect your brain and it's our pleasure to give you these helmets. You earned them, through your good work in learning about safety and bicycles."
"It's all about safety, but it's also the law," Somerville Police Officer Marianne Manfra added. In Massachusetts, cyclists who are 16 years old and younger are required to wear helmets. We urge all cyclists to wear helmets.
Shawn Maguire, principal of the Benjamin G. Brown School, Sharyn Von Trapp, the 5th grade physical education teacher and Steve Simolaris, supervisor of health and physical education at the Somerville public schools, all attended the gathering to recognize students for completing CYCLE Kids. Von Trapp handed students certificates of completion, while Attorney Gluck and Officer Manfra gave students their helmets (and we are pleased to report the students already knew how to fit their own helmets and some knew enough to help friends).
About Breakstone, White & Gluck and Project KidSafe
Attorneys Marc L. Breakstone, David W. White and Ronald E. Gluck founded our law firm in 1992. Breakstone, White & Gluck is a personal injury law firm and as part of our practice, our attorneys have long represented cyclists. We know wearing a bicycle helmet can make every difference in preventing head injuries and saving lives. Wearing a helmet is also a simple step anyone can take. We founded our Project KidSafe campaign in 2013 to encourage helmet use.
Over six years, our attorneys have given away more than 20,000 bicycle helmets to children in Massachusetts. Each year, we partner with CYCLE Kids and Somerville public schools, along with the Kiwanis Club of Somerville on its annual Bicycle Safety Day. One hundred cyclists turned out this year to learn cycling skills. The event was held last weekend at the East Somerville Community School.
We also partner with Groundwork Somerville, which gives our helmets to students who participate in summer programming and rely on their bikes for transportation throughout the day.
About Breakstone, White & Gluck
The Boston personal injury lawyers of Breakstone, White & Gluck have over 100 years combined experience representing those who have been injured by the negligence or wrongdoing of others. To learn more about our attorneys, visit our website. For a free legal consultation, contact us at 800-379-1244 or 617-723-7676 or use our contact form.