Posts Tagged '"David White"'
Attorney David White was recognized for his contributions to Boston's cycling community at last night's 6th Annual Boston Bike Update, which was held in the historic Faneuil Hall in Boston.
White, an attorney at Breakstone, White & Gluck, received the Volunteer of the Year award from Boston Bikes, the city office which oversees the growth of safety infrastructure, the Hubway bike share facilities, and programs for youth and low-income residents. White was honored alongside Bikes Not Bombs of Jamaica Plain, which received the Organization of the Year award. Jon Ramos was named Rookie Advocate of the Year and Vineet Gupta was Unsung Hero of the Year.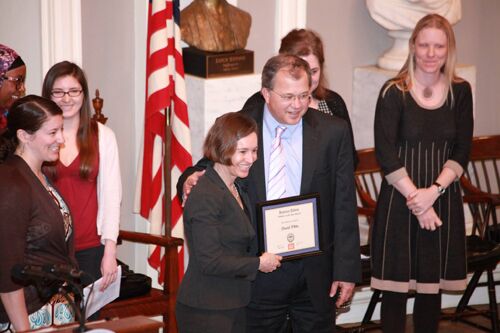 Photo credit: LivableStreets/www.livablestreets.info. Attorney David W. White of Breakstone, White & Gluck and Nicole Freedman, Director of Boston Bikes, during the 6th Annual Boston Bike Update at Faneuil Hall.
Jenny Duquette, Community Cycling Program Manager, introduced White:
"Our Volunteer of the Year is a former president of the Massachusetts Bar Association and a trial lawyer at Breakstone, White, & Gluck, which donated 160 helmets to Roll It Forward in 2013."
"Like any superstar volunteer, he wanted to have an impact, so last year he volunteered at several bike giveaways as our helmet station guru – getting the kids excited about their new helmets, while making sure they got a helmet that actually fit! This year, his firm is donating helmets, locks, and light sets."
Boston Bikes and Roll It Forward
Roll It Forward collects, repairs and distributes bikes to low-income Boston residents who might not otherwise have access to one. The program's goal is to promote a healthier lifestyle with increased physical activity and fewer trips by car. As of January 2014, the program had distributed 2,728 bicycles. It plans to donate 850 more in 2014. In one very busy two-year period, the city's youth cycling program gave safety classes to over 7,770 youth.
Former Mayor Thomas Menino established Boston Bikes in 2007 by hiring transportation planner and former Olympic cyclist Nicole Freedman. At that time, Boston only had 60 yards of bike lanes and was frequently cited as the worst city in the country for cyclists.
Today, the city has 60 miles of bike lanes. Boston Bikes is working to expand the network by adding a variety of new bike lanes, including new cycletracks, which will put a barrier between bike lanes and cars. The Hubway program, which launched in July 2011, continues to grow with more bike stations in Boston as well as Cambridge, Somerville and Brookline. And the program strongly encourages use of helmets, by asking riders to agree to wear helmets in the Hubway contracts, partnering with businesses to offer subsidized helmets and opening the first-in-the-nation helmet vending machine in Back Bay.
Related:
Watch the Boston Bike Update.

Read more about Boston Bikes.
View Facebook photos of the 6th Annual Boston Bike Update.
Read More
David White, a principal at the Boston personal injury law firm of Breakstone, White & Gluck, recently appeared on Money Matters Radio for their mid-day show. Here is the audio from the presentation.
David talks about what car insurance you should have to protect yourself, and others, in the event of a car accident; about medical malpractice; and about insurance bad faith in Massachusetts.
To download the broadcast, click here.
Many thanks to our good friends at Money Matters Radio and host Chris Findlen.