Posts Tagged '"bicycle accident lawyers"'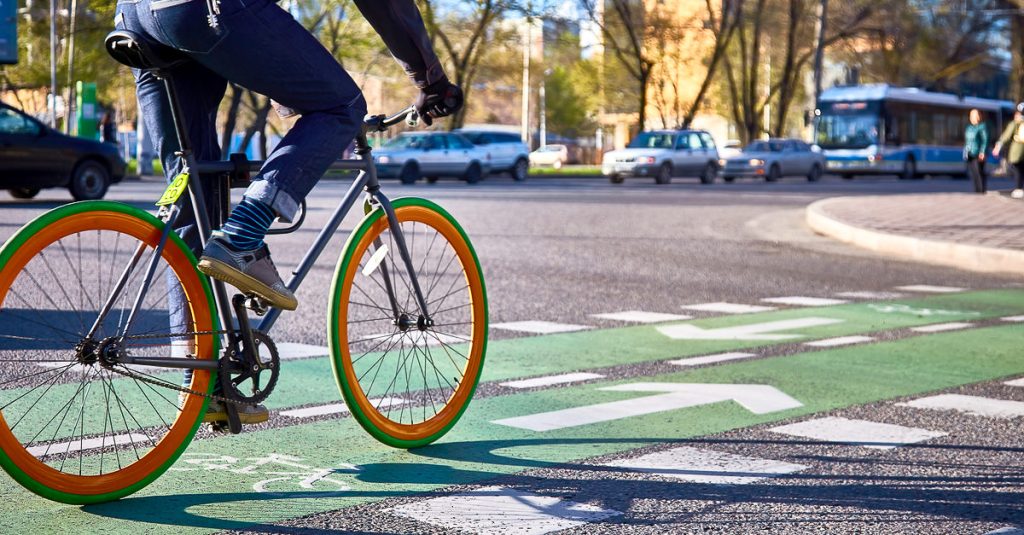 As COVID-19 kept many of us home, Boston and nearby cities built out an impressive 35 miles of new bike lanes in 2020 and 2021, according to a news report.
But, while encouraging safety, bike lanes alone cannot prevent cycling accidents. Drivers still have a responsibility to slow down, travel safely in their lane and use extra caution, especially as they get to know the new infrastructure.
Consider that bike lanes must be a minimum of 5 feet wide under state highway standards. In Boston, the city's transportation department works to build at least 6 feet wide in areas with high bike traffic and 6 to 7 feet in areas with heavy parking turnover. Then factor in parking, traffic and bus lanes and you have more than covered the widest roads.
Finding New Bike Lanes in Boston, Cambridge and Nearby Cities
If you travel into Boston or Cambridge, you will find several miles of new bike lanes, including both conventional and protected bike lanes.
Conventional bike lanes – also called unprotected bike lanes – are flat lanes which create a designated lane for cyclists using paint and signage. Protected bike lanes are designed to add another layer of safety. These are usually more visible and use physical barriers – such as flexiposts or curbing – to separate cyclists from drivers.
During the pandemic, the City of Boston expanded its bike lane network with protected bike lanes on all roads around the Boston Public Garden. The city is now working to connect key stretches of bike lanes, including at the intersection of Beacon and Arlington streets near the west end of the Public Garden.
Beyond Boston and Cambridge, you can take a drive into Medford, Somerville, Newton or Brookline, among other communities, to see new bike lanes built during the pandemic. Somerville and Medford saw significant bike lane development along Route 28 and the Wellington Bridge, with funding from the state's Shared Streets and Space Program.
Some of the new protected bike lanes are "quick-build" projects. Keep this in mind as you drive. Cities may now experiment and take flexiposts up and down as seasons and traffic volumes change.
How Boston Drivers Can Avoid Bike Lane Accidents
Now more than ever, it is critical to watch because there are more cyclists out. According to state figures, ridership is up more than 25 percent in many Massachusetts communities as we emerge from the pandemic.
Learn Where Cyclists Are Allowed to Ride
When driving, take a good look at the full road. You may initially notice the traffic lanes, intersections and stop signs. Many drivers, however, overlook the bike lanes, if the road even has them.
If you see bike lanes, consider these a guide. A cyclist may ride in the bike lane. But they may also have to move into the roadway at times to position themselves for a left turn or because the bike lane ends.
When the bike lane ends, a cyclist may choose to stay on the right side of the road or they may attempt to move into the traffic lane. Cyclists are allowed to ride up to two abreast in the traffic lane in Massachusetts. Many cyclists try to avoid this approach to avoid backing up traffic. But you will see this and it is important to give cyclists enough space to make safe decisions.
Drive Slowly
Maintaining a slow and safe speed near cyclists is critical. When you speed, you can easily cross over painted bike lanes or even flexiposts, and you leave yourself less time to respond if cyclists, pedestrians or other drivers make an unexpected move.
Open Car Doors Carefully
Drivers can injure cyclists and pedestrians even after they park. Drivers who open doors without checking, or leave a car door open as they get ready to get out, have caused many dooring accidents and serious injuries to cyclists in the Boston area.
At least 40 states – including Massachusetts – have recognized the danger of dooring and made this a traffic offense, according to the League of American Bicyclists. 
The Danger of Parking in Bike Lanes
It is also illegal for drivers to park in bike lanes in Massachusetts under M.G.L. c. 89, § 4D. Drivers have to remember bike lanes are travel lanes for cyclists. If you park in a bike lane and a cyclist is injured as a result, you may be fined by local police, just as you can be if you open a door into a cyclist's path.
The cyclist could also file a claim against you and hold you financially responsible for their medical expenses, lost wages and other damages.
Distracted Driving Can Be Deadly Near Cyclists
As you drive, look how close you are to cyclists and the bike lane. There is little room for error and it is highly dangerous to pick up your cell phone for any reason. You could veer off the road and into the bike lane, then hit a cyclist. Use your best judgment and wait. Another factor to consider is pedestrians. Both you and the cyclist approaching have a duty to stop and yield to pedestrians at crosswalks and other situations. There is no room for distractions.
The tragedy is at least two cyclists have been killed in distracted driving accidents in Massachusetts since the start of the pandemic.
In August 2020, a driver was reportedly texting and collided into three cyclists traveling along Topsfield Road in Ipswich, according to the Salem News. One of the cyclists later died at a local hospital and police charged the driver.
The criminal case was ultimately resolved last month, when the driver pleaded guilty to negligent motor vehicle homicide, but avoided jail time. The driver's criminal defense lawyer argued she had texted with a friend earlier about visiting Crane Beach, but just before the crash, she suffered from a gastrointestinal condition and this caused her to take her eyes off the road, leading to the crash.
In Northampton, another driver is facing criminal charges in connection with a fatal bike crash in October 2021. Police allege the driver was using the FaceTime app and ran a stop sign near Northampton High School, then fatally injured the cyclist, according to local news reports. Now, a state legislator is seeking to update the state's hands-free driving law to specifically ban video broadcasting and vlogging while driving.
Watch for Cyclists and Turn Safely at Intersections
When you stop at an intersection, you may expect cyclists to pull up to your right in the bike lane. They may do so. However, they may also come up behind you or move into the traffic lane to turn left.
Continue to look around your vehicle as you wait at the intersection and use caution when you make right-hand turns. Check your mirrors and blindspot so you can avoid turning right into cyclists and causing injuries. These are called "right-hook" bicycle accidents and they have often been fatal in Boston.
Under Massachusetts law, drivers can be cited for overtaking and passing bicyclists to make a right turn, unless they can turn at a "safe distance" at a "speed that is reasonable and proper," M.G.L. c 90 § 14. With so much activity at intersections, it is better to just wait for cyclists to turn safely.
At Breakstone, White & Gluck, our attorneys have represented cyclists and families in wrongful death cases resulting from right hook bike crashes at intersections. These are painful experiences made worse because these accidents are preventable if drivers check their mirrors and blindspot for cyclists.
Operators of large trucks are responsible for many right-hook crashes. Truck companies can protect against injuries by providing drivers with proper training and upgrading equipment with sideguards and convex mirrors.
Free Legal Consultation – Boston Bicycle Accident Lawyers
Breakstone, White & Gluck is a strong supporter of safe cycling in Massachusetts and has been recognized by the League of American Bicyclists as a Silver Level Bicycle Friendly Business.
With more than 100 years combined experience, our lawyers fight for the rights of those injured by negligence or wrongdoing in personal injury cases. We have extensive experience representing cyclists who have been injured by negligent driving in the Boston area and across Massachusetts.
If you have been injured in a bicycle accident, learn your legal rights. Call for a free legal consultation and our attorneys will review the facts of your case with you to help you determine if you have a potential claim against a driver to help you with your recovery. Do not hesitate to call; we are experienced at working with both cyclists and family members to address all your concerns and preserve your legal rights in the hours, days and months after a bike crash.
For a free legal consultation, call 800-379-1244 (toll-free) or 617-723-7676 or use our contact form.