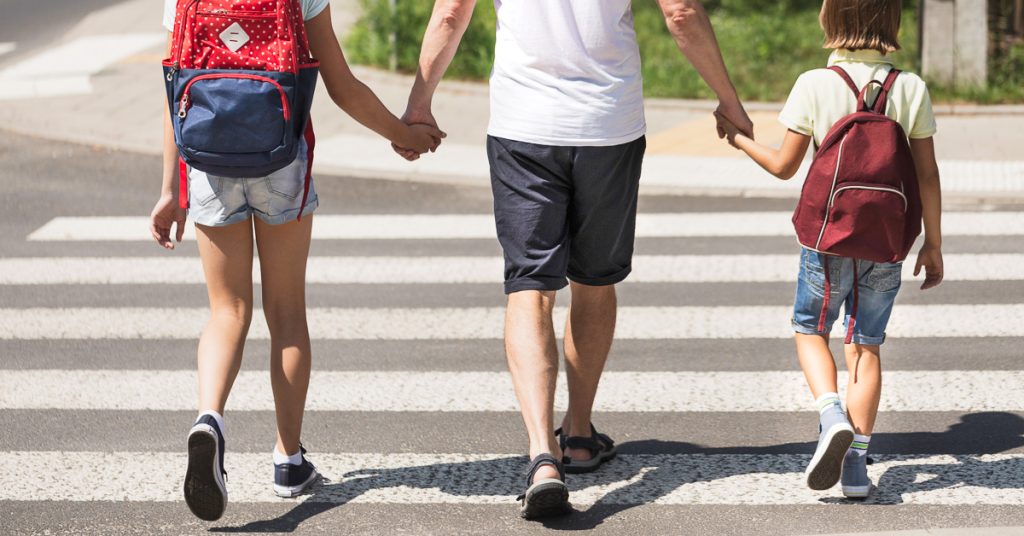 Back-to-school is a fun and exciting time for students, especially getting to reconnect with friends after summer vacation. As students get ready, drivers should too. You should expect to see more students walking, biking or waiting at school bus stops. Commit to drive safely and be mindful of speed limits. 
Take a Test Drive
Before students return, drive through your community, school parking lots and nearby intersections. Observe whether there has been roadwork or if new bike lanes have been added. Look for new traffic signs related to parking, school drop-offs and traffic direction. Look for sidewalks. As a driver, you have to make quick decisions and this check will help you later.
Look Right, Left, Front, Back
Drivers can prevent many traffic accidents by checking their blindspots and all sides of their vehicles at intersections more. At red lights and stop signs, it is critical that you check, especially from behind. You must watch for pedestrians, but also cyclists. Consider that after you initially stop your car, a cyclist could approach from behind. If you neglect to check, you may not see them before the encounter turns into a very serious bicycle accident.
When you park, commit to look. Check all sides, including your blindspot. Use your back-up cameras and really look for pedestrians, whether you are in a school parking lot or at a local restaurant or other business. Before you step out of your vehicle, check again so you do not hit a cyclist or pedestrian with your door. These accidents can happy very suddenly if you do neglect to look and a cyclist is nearby. Learn more about dooring accidents.
Slow Down for Students
In Massachusetts, drivers must follow a 20 mph speed limit in school zones. The Vision Zero campaign has documented that slower is safer for pedestrians, even just 5 mph.
From the City of Boston's Vision Zero campaign:
There is a 17 percent likelihood of fatality or severe injury when drivers travel 20 mph and hit a pedestrian.

At 25 mph, the risk of pedestrian death or severe injury rises to 30 percent.

At 30 mph – still not that fast – there was a 47 percent chance of a pedestrian accident turning fatal. 
Travel Safely Behind School Buses
After the past year, it is more important than ever to practice patience near school buses and school bus stops. Each day may be different as parents, children and school bus drivers try to manage under COVID-19 conditions. Remember the basics of school bus safety.
When a bus flashes its yellow signals, this means the driver is getting ready to stop. Other drivers on the road should slow down and prepare to stop. Drivers must stop when the school bus activates its red lights and extends its stop sign.
Never pass a school bus that has activated its signals and extended its stop sign. In Massachusetts, drivers must keep vehicles at least 100 feet behind a school bus at all times. M.G.L. c. 90, § 14
When a school bus stops, drivers traveling in both directions must stop. And if you end up stopping behind a school bus that is letting off children, just wait. Wait until all the children have fully stepped onto the sidewalk and give the bus distance when it starts moving again. This also gives you time to assess the traffic and look for an opportunity to get off the bus route if you want to. 
Stop and Look for Pedestrians at Crosswalks and Intersections
Drivers should commit to stop for students in crosswalks. Students expect drivers to stop and if drivers travel slowly and are prepared to stop, they have extra time to make safe decisions near children.
In Massachusetts, drivers have a responsibility to yield, slow down or stop for all pedestrians in marked crosswalks. Drivers must stop for pedestrians at crosswalks with an activated "Walk" signal. Another point is that you should follow other drivers and their decisions near crosswalks. When the car in front of you stops for a pedestrian at a marked crosswalk, you have a duty to stop and wait for the pedestrian to cross.
Read more on Breakstone, White & Gluck's page on pedestrian crosswalk laws.
Teens Suffer Many Pedestrian Injuries
When you hear "back-to-school safety," many people think of young elementary school students. But in "Alarming Dangers in School Zones, 2016," SafeKids Worldwide reports that older teens, ages 15-19, account for 26 percent of all children age 19 and younger.  Yet the older teens accounted for about half of all pedestrian fatalities, with many occurring at night. 
This is relevant because when school begins, there will be a rise in traffic and pedestrian activity even outside school hours. High school students may be participating in afterschool sports, extracurricular activities, an afterschool job or visiting more with friends. 
Call 911 to Report Injuries to Children, Pedestrians and Cyclists
If you pass a student or an older pedestrian or cyclist who has been injured, stop and call 911. This is a really difficult time as the pandemic continues and there is likely to be traffic congestion at times and demands on our emergency response services. 
Never assume a pedestrian has help. Nearly 20 percent of all pedestrian fatalities involve hit-and-run crashes, according to the AAA Foundation for Traffic Safety. If a driver flees the scene, the victim may not have anyone to call 911, delaying their access to medical care. Every minute counts to a pedestrian injured in a car accident.
About Breakstone, White & Gluck – Boston Pedestrian Accident Lawyers
With more than 100 years combined experience, Breakstone, White & Gluck fights for justice for clients who have been seriously injured by negligence or wrongdoing. Our lawyers are committed to excellence in every personal injury case we handle. We have earned consistent recognition in The Best Lawyers in America and Massachusetts Super Lawyers for our results for clients.
If you have been injured, learn your legal rights. For a free legal consultation, contact us at 800-379-1244 or use our contact form.