Posts Tagged 'Westborough'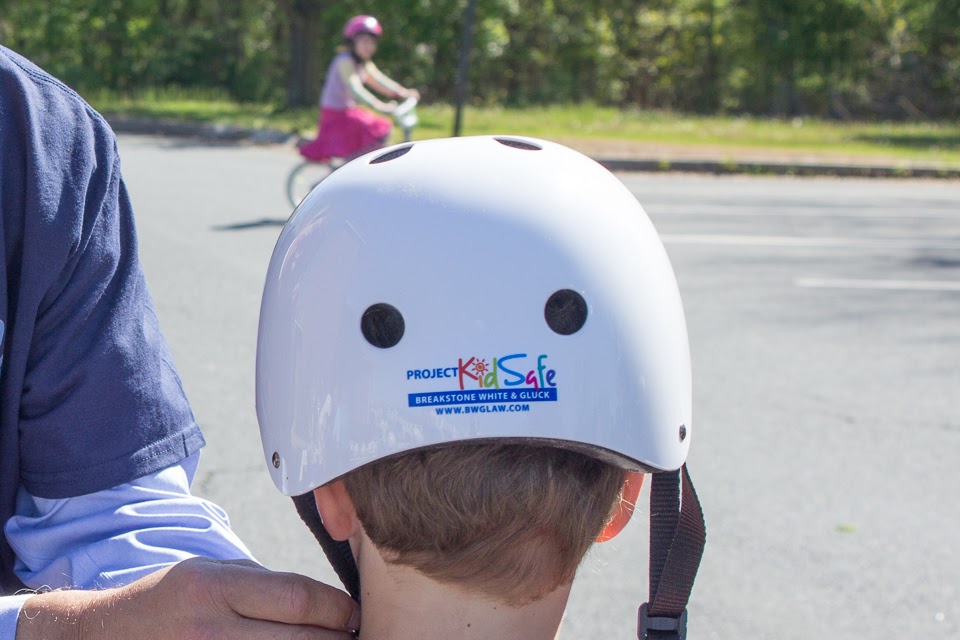 We are glad the weather held off!
For the fifth year, Breakstone, White & Gluck and our Project KidSafe campaign donated nearly 200 children's bicycle helmets in Westborough. Last Spring, about 100 helmets were distributed by the Boroughs Family Branch of the YMCA of Central Massachusetts. The helmets went to children who needed one at the annual Healthy Kids Day. But thanks to Mother Nature, giving away the rest was more challenging.
First, unseasonable weather forced the the Rotary Club of Westborough to cancel the Spring Fest. On Saturday, it looked like the back-up plan – to hold a Fall Fest – was also in jeopardy. But we are happy to report the skies cleared enough for activities to go on. Our thanks to members of the Westborough Bicycle & Pedestrian Advisory Committee, who were out fitting our Project KidSafe helmets for the kids and talking to families about the importance of wearing them.
Wearing a helmet is critical for cyclists of any age. A helmet can limit the impact if a cyclist falls and significantly reduce the chances of a head injury. In Massachusetts, cyclists under 17 are required to wear helmets when they ride. The Boston personal injury lawyers at Breakstone, White & Gluck began our Project KidSafe campaign to put helmets on more children and to encourage children and families to wear one at all times. Our lawyers have represented many cyclists who have suffered head injuries in bicycle accidents over the years, and we know that cyclists can protect themselves by wearing a helmet, which is in good condition, meets safety standards set by the Consumer Product Safety Commission and properly fits.
That's why Breakstone, White & Gluck founded our Project KidSafe campaign in 2013. As we near the end of 2018, our attorneys are proud to have donated over 20,000 bicycle helmets across Massachusetts. We have partnered with more than 40 organizations over the years and it's one of our priorities to support local bicycle committees, which are making Massachusetts safer one project at a time. In Westborough, the committee has worked to improve pedestrian and bike signals and supported construction of bike paths. The Westborough Bicycle & Pedestrian Advisory Committee's website provides resources for cyclists who want help getting around.
Read about the Westborough rotary's Fall Fest in the Community Advocate newspaper.