Breakstone, White & Gluck Makes Bike Helmet Donation to Somerville Schools
We want to share articles from the Somerville News Weekly and BostonNewsGroup.com about the CYCLE Kids program and our bike helmet donation to the Somerville elementary schools. CYCLE Kids is a Cambridge organization which provides curriculum that teaches riding skills, bike maintenance, road safety and nutrition. Locally, the curriculum is offered in Cambridge and Somerville schools as part of physical education classes.
Earlier this week, attorney Marc Breakstone attended a graduation ceremony for children finishing the curriculum at the Dr. Albert F. Argenziano School in Somerville. Breakstone, White & Gluck donated 325 helmets to Somerville schools.
"Our firm is honored to be associated with CYCLE Kids which does such an incredible job educating kids in bike safety and healthy lifestyle choices," Breakstone said. "The energy, excitement and elation in that gym were inspiring and many people should be recognized. Our firm looks forward to continuing to support this effort for years to come."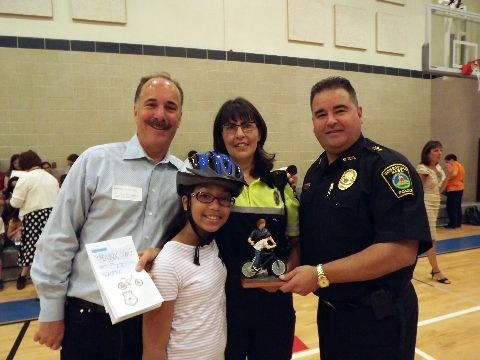 Attorney Marc Breakstone, Somerville Community Police Officer Marianne Manfra and Somerville Deputy Police Chief Michael Carbral with a graduate. Photo credit: The Somerville News Weekly.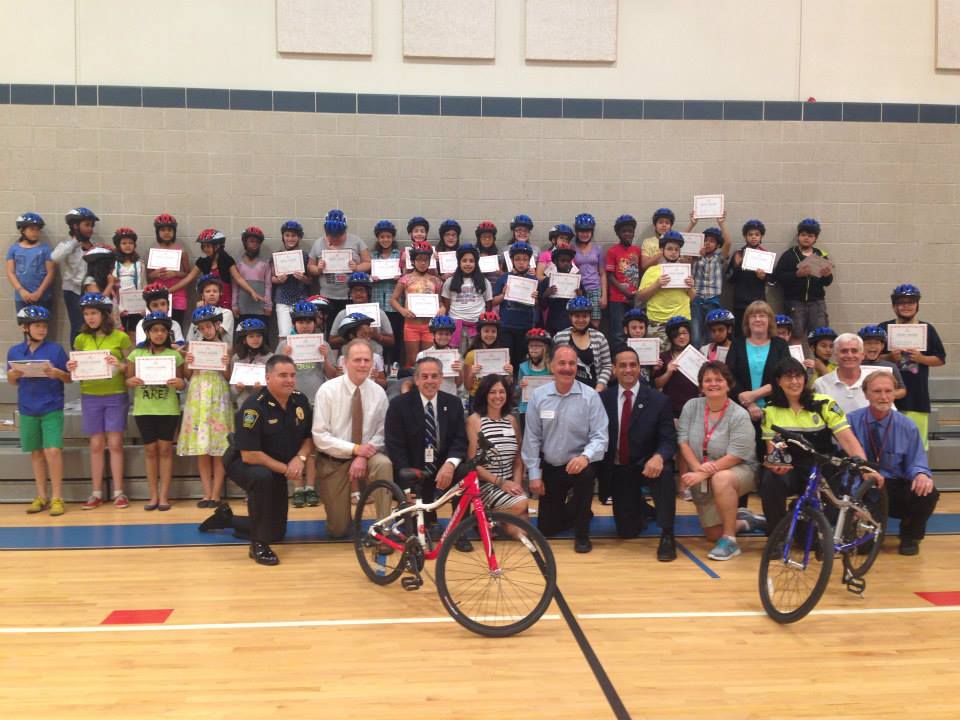 Fifth-graders at Somerville's Dr. Albert F. Argenziano School graduating from CYCLE Kids program, joined by community officials.
See a video of attorney Marc Breakstone leading the children through a pledge to ride their bikes safely.
Participating in the event were Somerville Mayor Joseph Curtatone, Superintendent of Schools Anthony Pierantozzi, Deputy Police Chief Michael Cabral, Somerville Community Police Officer Marianne Manfra and CYCLE Kids Founder Julianne Idlet.
Breakstone, White & Gluck is donating bike helmets to cycling organizations throughout the Boston area in 2014. It is the second year we have made these donations and expect to donate 2,000 helmets by year's end. We have donated helmets to Boston Bikes' Roll It Forward, CYCLE Kids, the Kiwanis Club of Somerville and Worcester Earn-a-Bike along with other organizations.
It is our second year partnering with CYCLE Kids. Last year, we partnered with the organization and donated 300 helmets to fourth-graders in the CYCLE Kids program in Cambridge.
While CYCLE Kids is based in Cambridge, it is a national organization that promotes healthy lifestyles for youth and families. CYCLE Kids uses the bicycle as the vehicle to teach the importance of adopting healthy, active lifestyles. The CYCLE Kids curriculum teaches riding skills, bike maintenance, and road safety. In addition, the curriculum provides practical skills based on a child's existing knowledge of nutrition such as portion control and how to balance a meal. The CYCLE Kids curriculum is present in 8 states, with 38 programs and reaches 3,000 children a year.
About Breakstone, White & Gluck
The Boston personal injury lawyers at Breakstone, White & Gluck have over 100 years combined experience representing seriously injured bicyclists and pedestrians. If you have been injured, learn your rights. For a free legal consultation, contact us at 800-379-1244 or 617-723-7676 or use our contact form.