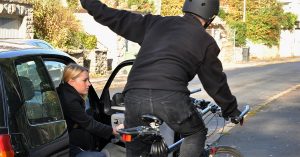 A recent New York Times article on dooring injuries shows the risks to cyclists continue, even after advocacy efforts in Boston and other cities.
At Breakstone, White & Gluck, our attorneys represent cyclists who have been seriously injured in dooring accidents. While many dooring accidents happen in urban areas such as Boston, Cambridge and Somerville, dooring can happen in any community in Massachusetts. When drivers or passengers open doors without checking, cyclists can suffer devastating injuries, including broken bones, facial fractures and head injuries. Dooring crashes can be fatal.
Dooring crashes do not always make the news in Boston. But they are happening, more than any other type of bicycle accident. In fact, in November 2016, The Boston Globe reported cyclists faced a 225 percent higher risk for dooring than any other bicycle accident injury.