Welcome back cyclists! Bay State Bike Week is here and many of you are commuting to work for competition, attending commuter breakfasts, and participating in events to make this work week pass a little faster. The goals are to help protect the environment, reduce traffic congestion, get a little exercise, and have fun with other cyclists.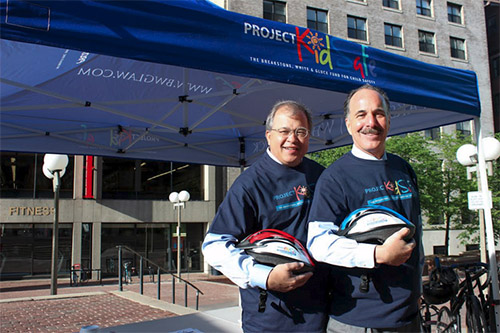 Attorney David White and Marc Breakstone on Boston City Hall Plaza with our Project KidSafe tent and Project KidSafe helmets during Bay State Bike Week 2015. The event was Bike Friday and it was organized by Boston Bikes.
Breakstone, White & Gluck is pleased to participate as well. On Friday morning, we will join cyclists at the Bike to Work Day event on Boston City Hall Plaza. If you attend, please stop by our Project KidSafe tent and say hello to some of our lawyers! Boston Bikes is organizing the event.