Bay State Bike Week 2016: Have Fun and Be Safe
Welcome back cyclists! Bay State Bike Week is here and many of you are commuting to work for competition, attending commuter breakfasts, and participating in events to make this work week pass a little faster. The goals are to help protect the environment, reduce traffic congestion, get a little exercise, and have fun with other cyclists.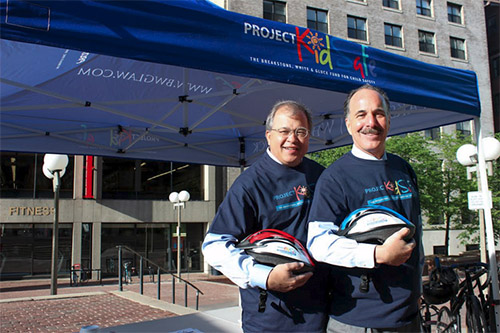 Attorney David White and Marc Breakstone on Boston City Hall Plaza with our Project KidSafe tent and Project KidSafe helmets during Bay State Bike Week 2015. The event was Bike Friday and it was organized by Boston Bikes.
Breakstone, White & Gluck is pleased to participate as well. On Friday morning, we will join cyclists at the Bike to Work Day event on Boston City Hall Plaza. If you attend, please stop by our Project KidSafe tent and say hello to some of our lawyers! Boston Bikes is organizing the event.
Have fun and, as always, ride safely. Here are a few bicycling safety resources from our lawyers, MassBike, the Boston Cyclists Union, and other organizations:
---
Massachusetts Bicyclists' Rights and Responsibilities
---
Our checklist of rights and responsibilities for bicyclists and motorists. Read more.
---
Wear a Bicycle Helmet
---
To help protect children and families, Breakstone, White & Gluck donates children's bicycle helmets through our Project KidSafe campaign. Over four years, we have given away over 10,000 brand-new helmets to children who need one. Along the way, we often meet parents who want their children to be fitted for a helmet but do not have one of their own.
Every cyclist needs a bicycle helmet to protect themselves from a head injury in a crash. Bay State Bike Week is a good time check your existing helmet to see if it needs to be replaced. If it is worn or cracked, it is time for a new one! Learn how to properly fit a helmet. Here is a video with instruction:
---
"Shifting Gears: Bicyclists & Public Safety"
---
This 11-minute video was produced by MassBike, in partnership with the Massachusetts Department of Public Health and the Boston Police Department. The video was developed to provide police officers instruction on the laws for cyclists and motorists. But it is a good resource for any cyclist or driver.
Specific topics covered in the video include bicyclists' right to use the road, dooring, safe passing, yielding to bicyclists on turns, parking in bike lanes, bicyclists' compliance with rules of the road, hand signals, yielding to pedestrians, lights at night, wrong-way bicycling, and crash investigation.
---
What Every Massachusetts Bicyclist Needs to Know About Car Insurance
---
While we hope cyclists are never injured, it can make all the difference in the world to understand how your auto insurance policy works. Many cyclists do not realize this, but you can purchase extra coverage on your auto insurance to protect yourself if you are injured on a bicycle. This is important because there may be times when a driver does not have adequate insurance and you need to rely on your own coverage. Read more.
---
Facts About Cycling in Massachusetts
---
We answer questions about lights, hand signals, parking and more. Read more.
---
Trucks vs. Bikes
---
The Boston Cyclists Union has published this sheet to educate cyclists on the dangers they face when approached by some large trucks. Please read the sheet so you understand some of the risks.
According to Volpe National Transportation Systems Center, nearly half of all bicyclists and more than one-quarter of pedestrians killed in large truck crashes first impact the side of a truck. When a truck has high clearance, a cyclist can fall in the space between the front and rear wheels.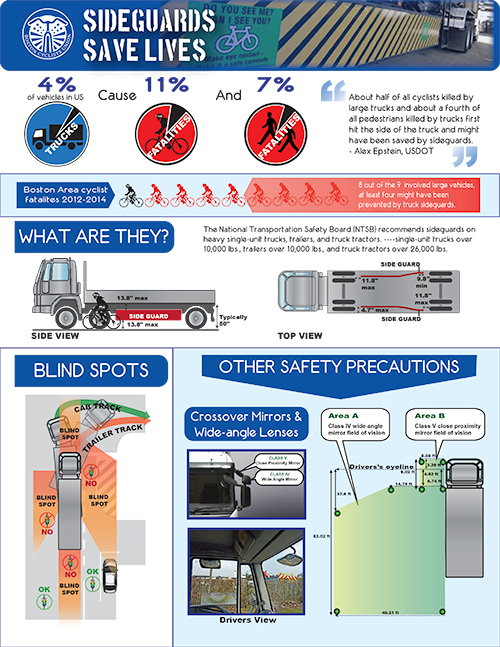 Mandated sideguard on large trucks have reduced cyclist deaths by 61 percent and serious injuries by 13 percent, according to a Transport for London study.
In October 2014, the City of Boston passed an ordinance, requiring truck sideguards, convex mirrors, blind spot awareness decals for city contracted trucks and tractor-trailers of a certain weight. Many trucks do not have to comply with the law, but this may change in the future. Legislation has been proposed to require truck sideguards statewide.
About Breakstone, White & Gluck
Breakstone, White & Gluck is a Boston personal injury law firm which is committed to the safety of all bicyclists in Massachusetts. We have over 100 years combined experience representing bicyclists injured by the negligence of others. If you, or a member of your family, has been injured in a bicycle incident, please feel free to contact us for a free legal consultation at 800-379-1244 or 617-723-7676 or use our contact form. Thank you and RIDE SAFE!