Posts Tagged 'Inman Square'
We had a fun opportunity to see Inman Square from up high a few weeks ago. Here are some of our photos:
The City of Cambridge has worked to improve safety for cyclists in Inman Square, recently adding new separated bike lanes on both sides of Cambridge Street, from Inman Square to Quincy Street, which approaches Harvard Square. This is .7 miles of new bike lanes with paint, flex posts and other temporary materials to help cyclists stand out. And the new lanes pass Cambridge Rindge & Latin, which serves more than 1,900 high school students. Last fall, the city also banned drivers from making certain left turns in Inman Square, after many years of bike crashes followed by a fatal bike accident last June.
Hampshire and Cambridge streets cross at Inman Square. In our photos, you can see a stretch of green bike lanes on Hampshire Street. These intersect with the new bike lanes on Cambridge Street, which are less visible, but they are there.
All the bike lanes look great. We hope they make the commute safer for cyclists and everyone on the roads.
More About Inman Square
Inman Square, known for its distinctive shops and restaurants, comes together around Hampshire and Cambridge streets. But there are several other streets that also meet here, making for a complicated intersection. These include Antrium Street, Fayette Street, Inman Street and Springfield Street. Prospect Street is at the other side of the triangle and the Somerville city line is nearby.
The Inman Square Fire House – or Cambridge Fire Department Station 5 – and the Mayor Alfred E. Vellucci Community Plaza are two Inman Square landmarks. There are also several banks here and a number of businesses named after the neighborhood: Inman Pharmacy, Inman Square Laundromat, Inman Square Hardware, as well as Inman Square Apartments. Restaurants include City Girl Cafe, 1369 Coffee House and Punjabi Dhaba.
This area is not served by a MBTA subway station, so you have to drive, take the bus, walk or bike. The Central Square MBTA is just over a half mile away and Harvard Square is a mile. Because of this, many choose to bike. If you don't have a bike, Inman Square has a Hubway bike share station.
Cycling is not allowed on the sidewalk (as in most business areas in Massachusetts, unless it is posted otherwise). But riding on the street is not easy. There have been numerous bicycle crashes here over the years. So many that Inman Square has been named the second top bike crash location in Massachusetts (Source: 2014 Top Crash Locations from MassDOT, dated August 2016). Only Central Square in Cambridge sees more bike accidents. In fact, nine out of the 10 top bike crash locations in Massachusetts are in Cambridge and Somerville, which is why the new protected bike lanes are so important.
After years of bike accidents in Inman Square, there was a fatal bike crash in June 2016, when a cyclist was tragically killed right at Hampshire and Cambridge streets. Amanda Phillips, just 27 years old, collided with a Jeep door which was left open. She was then struck by a landscaping truck. A few months later, another cyclist was killed by a truck crash in Porter Square, raising questions about safety there.
Back in Inman Square, the city banned motor vehicle traffic from making left-hand turns on key streets in October 2016. Motorists were banned from turning left from Hampshire Street onto Cambridge Street – and vice versa. They were also prohibited from turning left on Cambridge Street onto Antrium Street southbound. The city has strictly enforced the ban. The Cambridge Police Department issued more than 200 tickets in the first month of the new restriction; 133 drivers alone were ticketed within a 15-day period.
If you haven't visited Cambridge in a while, you can expect to see a few changes next time you do. Cambridge Street is just one area with new bicycle lanes. For those who live or work in Inman Square – or commute through – you already know these streets well and have seen the changes firsthand. But please take a look at our photos and share them with others. The more drivers, cyclists and pedestrians understand about this intersection, the more prepared they will be to follow traffic rules, which will reduce bike crashes and pedestrian accidents.
About Breakstone, White & Gluck
Breakstone, White & Gluck is a Boston law firm specializing in personal injury. For more than 25 years, we have committed to supporting cyclists and improving safety conditions in Massachusetts. We support numerous bicycle clubs and advocacy groups, including MassBike, Boston Cyclists Union, Charles River Wheelmen, New England Mountain Bike Association (NEMBA) and the Northeast Bicycle Club (NEBC).

In 2017, we finished the fifth year of our Project KidSafe campaign, which has donated more than 15,000 bicycle helmets to children. Wearing a helmet is required by law for cyclists 16 and under in Massachusetts, but we want to encourage every cyclist to wear a helmet every time they ride. We have over 40 community partners helping us send out that message, including in Cambridge and Somerville.

In Cambridge, we partner with the Cambridge Police Department, CYCLE Kids and the Windsor Street Care Center to make donations each year. In Somerville, we have long partnered with Kiwanis Club of Somerville, CYCLE Kids and Somerville Public Schools, Groundwork Somerville and Shift Bicycle Community Collective.
Learn more Breakstone, White & Gluck
Visit our website to learn more about our support for cyclists, our Project KidSafe campaign or to meet our lawyers.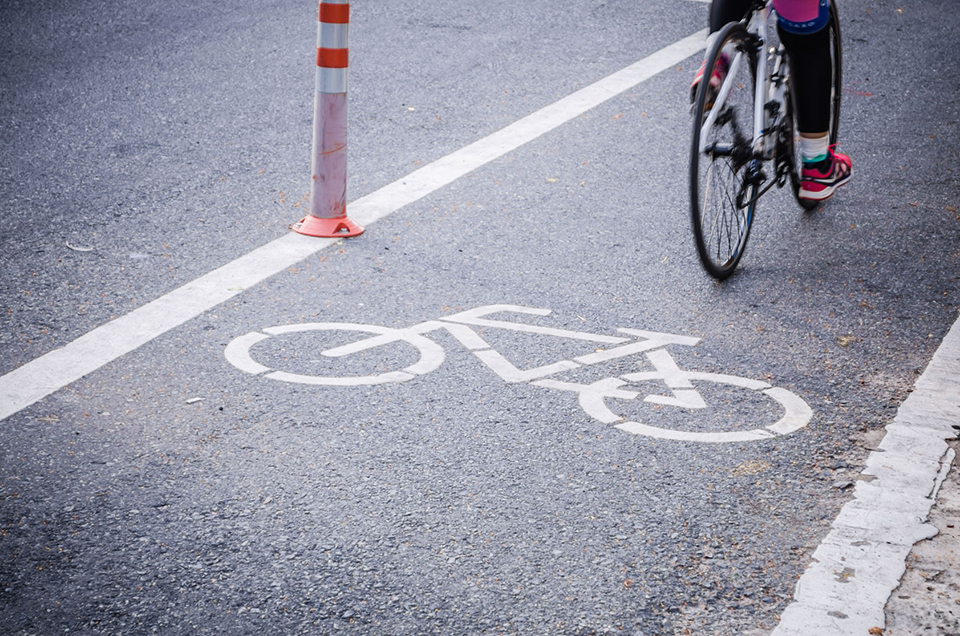 Cyclists riding through Inman Square now have a safer ride home. The City of Cambridge has recently installed separated bicycle lanes on Cambridge Street, from Inman Square to Quincy Street. The lanes are clearly marked, with flex posts creating a barrier between cyclists and drivers.
These lanes should have many benefits. We hope one is to reduce dooring crashes, such as the one that killed Amanda Phillips in Inman Square in 2016. The 27-year-old Somerville resident was riding a bike and collided into a Jeep door which was left open. The impact pushed her into the travel lane, where she was hit and killed by a landscaping truck. The accident happened near Hampshire and Cambridge streets.
Dooring has been against the law in Massachusetts since 2009. M.G.L. c.90 § 14 states, "no person shall open a door on a motor vehicle unless it is reasonably safe to do so without interfering with the movement of other traffic, including bicyclists and pedestrians."