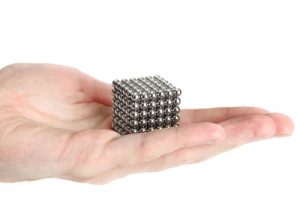 There is a disturbing new report out about children ingesting rare-earth magnet sets at an accelerated rate since 2016, when the industry overturned a federal sales ban in court. The magnet industry now markets these powerful cluster sets to adults, but children continue to swallow them. Parents can take precautions by double checking holiday gifts and discarding any of these products.
The Consumer Product Safety Commission (CPSC) issued a rule banning the small rare-earth magnet sets in 2014 after hundreds of children reportedly ingested the magnets. The rare-earth magnets were (and still are) about 10 times as strong as other magnets. The CPSC's ban required magnetic parts to have a lower force of attraction of 50 kG² mm² or less.
According to The Washington Post, child ingestions had dropped after the ban was implemented. Injuries dramatically rose between 2017 and 2019, with an estimated 1,580 ingestions this year.