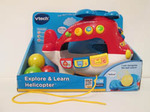 As the holiday shopping season begins, a watchdog organization is reminding consumers that not every toy on the shelves is safe.
The organization W.A.T.C.H., or World Against Toys Causing Harm, Inc., has released its annual list of 2012 "10 Worst Toys." W.A.T.C.H. says the toys on the list can cause children to choke, have sharp parts and carry misleading labels. The defective toys can be found online and in stores, at major retailers such as Toys "R" Us, Walmart and Amazon.
Dangerous toys seriously injure and kill children every year in the United States. In 2010, 17 children were killed in toy-related accidents. The majority were related to choking on balloons, small balls and rubber balls. The same year, about 181,500 children younger than 15 were treated in hospital emergency departments for toy-related injuries.