Posts Tagged '"personal injuries"'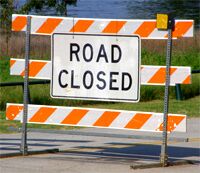 Massachusetts police officers assigned to protect public safety at roadside construction details are increasingly becoming the victims of car accidents themselves.
On Dec. 5, a Peabody police officer was struck by a 1991 Chevrolet pick-up truck while working on a Rte. 1 construction detail. He was thrown over the truck's hood and transported to Massachusetts General Hospital with serious personal injuries. An initial police investigation found the driver was speeding, but it remains ongoing.
In recent years, negligent drivers have struck police officers on several construction details in Massachusetts and caused life-threatening personal injuries. In June 2010, state police Sgt. Douglas Weddleton was killed while working on a construction detail on Interstate 95 in Mansfield. The driver was charged with operating under the influence as well as other driving infractions.
Police officers are not the only ones vulnerable in construction site accidents. Construction workers as well as pedestrians, homeowners and others nearby are also at risk for injury, especially during night construction.
Drivers have a responsibility to operate with care in construction areas. Here are a few ways to make your travel safer:
Avoid Construction Zones If Possible. When you find a construction project on your daily commute, see if you can find an alternate route until work is complete. For projects in your local community, pay attention to your town's government website and contact the police department's business line if you have questions.
Identify Who Is In Charge of Traffic. Detail police officers typically direct traffic on many sites, but other work sites utilize civilian flaggers. The civilian flaggers should be dressed in fluorescent clothing and carrying traffic direction signs.
Give Other Drivers Space. Do not travel too closely behind other vehicles. It can be difficult to anticipate when another vehicle may stop short.
Slow Down. We all want to reach our destinations on time, but once you are stuck in construction traffic, it is best to take a deep breath and be as patient as possible to avoid a car accident.
Keep Your Eye on the Traffic. When there is a lot of activity going on at a construction site, there is a natural tendency to look at the crew and different machinery. But it is important to keep your eyes on the road.
Do Not Stop to Talk to the Detail Officer. Even if traffic volume is low, do not stop and ask the detail officer for help or directions. You are putting the officer at risk and confusing other drivers.
Avoid Construction Work Zones At Night. A large number of car accidents occur during night construction work because drivers are speeding, fatigued, operating under the influence or poor lighting.
Pedestrians and Cyclists. Like cars, it is also important for pedestrians and cyclists to follow the detail officer's instructions for when to pass.
Read More