Walmart Recall of 91,000 Defective Bicycles; Specialized Also Issues Bike Recall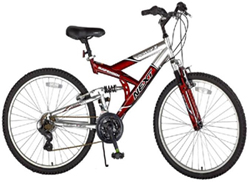 Anyone who has recently purchased a $100 bike at Walmart wants to pay attention to a bicycle recall issued this week.
Bridgeway International of Naples, Florida has recalled 91,000 "NEXT"-branded men's 26-inch hybrid bicycles. The products have a defective bicycle chain that can break and cause the bicyclist to lose control and fall in a bicycle accident.
The importer is aware of 11 reported incidents, including nine involving lacerations and other personal injuries.
The bicycles are red and orange and are marked "Power X" and "Suspension." They were sold at Walmart from February 2011 through July 2011 for about $100. The model numbers are LBH2611M and LBH2611M2. The bicycles were manufactured in China.
Consumers are advised to stop using the recalled bicycles. They can contact the company for a free repair at 877-934-3228 or visit www.powerxbike.com for more information.
Defective Specialized Bicycle Recall. Separately, 14,200 bicycles with a defective brake component were recalled this week by Specialized Bicycle Components, Inc., a Morgan Hill, California distributor.
The bicycles have Advanced Group carbon forks and were manufactured by Advance Group, of Taiwan. The brake component housed within the bicycle's carbon fork can disengage from the fork, allowing the brakes to contact the wheel spokes while rotating, posing a risk for falls and bicycle accidents.
There have been two reports of brake components disengaging from the carbon fork. No injuries have been reported.
The bikes were sold at authorized specialized retailers nationwide from June 2010 through August 2011 for $700 to $2,000. Consumers should stop riding these bicycles and return them to an authorized specialized retailer for a free repair or replacement. More information is available at 877-808-8154 or www.specialized.com.

The Boston lawyers at Breakstone, White & Gluck specialize in handling complex personal injury cases. Our injury lawyers are experienced at handling cases of bicycle accidents, car accidents, product liability and recalls. We handle cases throughout Greater Boston, including in Boston, Cambridge, Somerville and Medford. If you have been injured, call us today for a free legal consultation at 800-379-1244 or use our contact form.