Posts Tagged '"snow and ice falls"'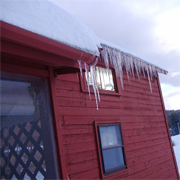 When you think of winter, you may envision a beautiful white snow fall. But in Massachusetts, we know after the snow comes the hard cleanup.
For homeowners, the cleanup starts with frequently traveled areas, such as your front steps, driveway and sidewalks. It's best to keep these areas shoveled and salted during the snowstorm as well as in the hours afterward, when freezing and snowdrifts occur. Staying vigilant is the best way to prevent slip and fall injuries on snow on your property.
Next, remember your roof and rain gutters. Neglecting your roof can be a safety hazard for your family and cause significant damage to your home.
When snow piles up on a roof, it acts as a sponge for sleet and rain. This will eventually leak and cause roof deterioration over time. The snow also puts weight on your roof, posing a threat for collapse.
More immediately, the snow can leak and freeze on driveways and walkways where someone could slip and fall. Minimize the risk with these tips:
Check your roof throughout a snowstorm so you are aware of snow accumulation and remove it as soon as possible.
Purchase a snow rake at your local hardware store so you can stand on the ground and clear snow.
Do not purchase a metal snow rake. It can conduct electricity if it crosses an electrical line.
Do not use a ladder to clear snow from your roof. The snow and ice on the ground and on your home are not stable enough to support a ladder.
Clear large icicles from roof overhangs, doorways and walkways.
Make sure you are capable of handling this cleanup yourself. If not, contact a local snow removal company.
Check your rain gutters for snow accumulation. Remove snow from visible areas.
Clean your gutters twice a year to prevent snow from clogging up.
It is important to keep your property safe by promptly removing snow after a snowstorm. Slip and falls in snow can result in severe personal injuries to you, your family and others. The law on cleaning up snow and ice have recently changed in Massachusetts, putting a greater responsibility on property owners. Click here to learn more.
Read More
Months after a landmark court ruling regarding snow and ice removal in Massachusetts, the city of Newton is considering a sidewalk snow removal ordinance.
The city initially proposed an ordinance requiring snow be cleared within 24 hours of a storm. Residents protested and city officials have proposed another ordinance allowing 30 hours. Businesses would still have 24 hours. The proposal is pending.
Many municipalities have ordinances requiring residents to keep their sidewalks clear to avoid snow and ice accidents. In Boston, renters, property owners and management companies of residential buildings with less than six units have six hours. Commercial property owners, renters and management companies have three hours, as do managers and owners of residential properties with more than six units.
Other communities provide larger windows of time. Springfield allows residential property owners and renters 24 hours while Worcester permits 10.
These ordinances are designed to protect the public on sidewalks. But property owners have a responsibility to keep their entire property safe after the Supreme Judicial Court's decision in Papadopoulos v. Target Corporation, SJC-10529 (July 26, 2010).
Prior to the decision, property owners were liable for injuries sustained on what is known as an "unnatural accumulation" of snow or ice, such as a snow plow pushing snow onto a driveway. Now, property owners are liable for injuries resulting from natural accumulations as well, meaning they have a responsibility to keep their property reasonably safe and free from snow and ice after a storm.
If you are a property owner, this means you want to consider how you can prevent snow and ice accidents on your property this winter. Here are a few tips:
You have a responsibility to clear your driveway, sidewalks and other areas accessible to the public.
If you are using a snow blower, keep a shovel on hand as a back-up.
Stock up on salt and use it regularly throughout a storm and in the hours afterward, when a large amount of freezing occurs.
Walk your property after the snow falls. If you cannot move across it safely, others will be at risk.
Ask yourself if you can handle your own snow removal. If not, contact a snow plowing company.
For more information about your obligations as a property owner, visit the Breakstone, White & Gluck website.
Click here to read about the city of Newton's proposed snow removal ordinance.
Read More