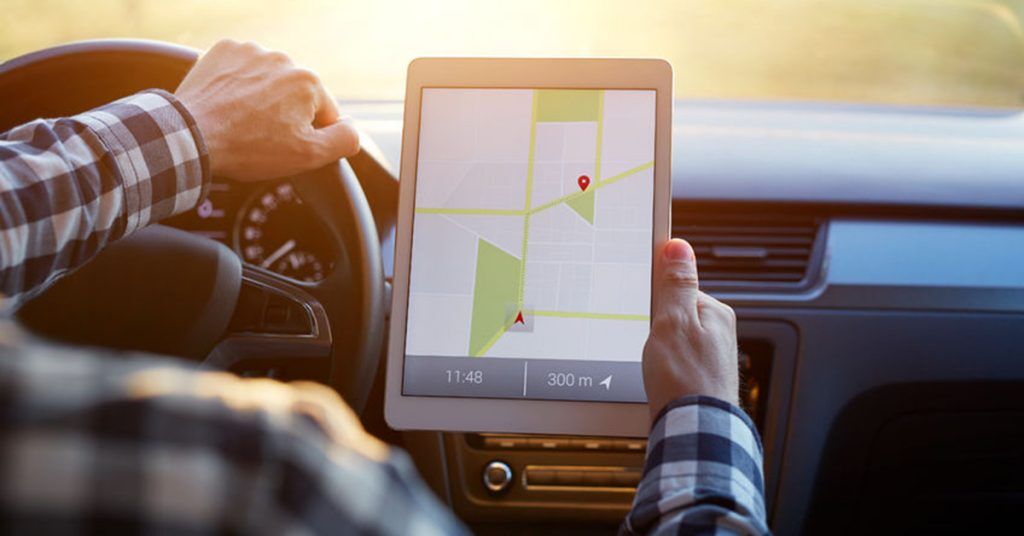 Commuting is a battle in Massachusetts, full of frustrations and hazards. But residents, communities and lawmakers continue to fight back to improve safety.
On Monday, the state House of Representatives considered a controversial bill proposing new fines for jaywalking and jaywalking while distracted (or as The Boston Globe writes, "Jay-texters"). Meanwhile, WBZ reports communities are closing off roads in response to traffic apps such as Waze and Google Maps.
Jaywalking Bill. On Beacon Hill, Rep. Colleen M. Garry, D-Dracut, has proposed Bill H.1834, which would allow cities and towns to impose stronger penalties against jaywalking. The current penalty is $1, which isn't much of a deterrent. But this new bill proposes:
Jaywalkers may be fined $25 for a first offense, $50 for a second offense and $100 for a third or subsequent offense.
The proposal calls for new and increased fines for pedestrians who violate the jaywalking law and are using mobile devices or earphones. Using a mobile device will increase the fine to $50 for a first offense, $100 for a second offense and $200 for a third or subsequent offense.
Massachusetts is not the only state considering action. In New York, the State Assembly passed a law for New York City to study the problem. As of last month, the City of Honolulu began ticketing pedestrians who are texting or reading from a cell phone. The price? Up to $99 per violation.
While pedestrian texting bans are new, 47 states and Washington D.C. now have laws which ban texting while driving. Puerto Rico, Guam and the U.S. Virgin Islands also have bans. Massachusetts passed its texting while driving ban in 2010.
This is a controversial topic. We will be among those watching the State House this week.
Traffic Detour Apps. WBZ reported on Monday that drivers are continuing to make use of apps such as Waze and Google Maps, which help them find the shortest route (Note: Waze was actually acquired by Google in 2013). But regardless of the specific brand name, police departments say these apps are a safety issue because they change traffic flow and draw large amounts of traffic to residential roads.
Now cities, such as Medford, Cambridge, Brookline and Belmont have taken action, by closing off roads or posting no turn signs.
Here are a few notes for your commute:
In October, Medford Police announced Bracket Street at Elm Street is residents only on weekdays from 7 a.m. to 9 a.m. and 4 p.m. to 6 p.m.
Belmont has installed no right turn signs off Brighton Street.
Brookline has restricted access to several roads off Clyde Street.
In Cambridge, Fresh Pond Parkway is also closed to through traffic.
These are two stories for every commuter to follow. We will write more about both topics in the weeks and months to come.
About Breakstone, White & Gluck
The Boston car accident attorneys at Breakstone, White & Gluck have over 100 years combined experience representing pedestrians, cyclists, drivers and passengers who have been injured by negligent drivers. If you or a loved one has been injured, learn your rights for seeking compensation. After a car accident, you may incur medical expenses, have to take time off from work and no one can predict how long recovery will take. For these reasons, it is important to contact an experienced Boston car accident lawyer.
For a free legal consultation, contact our attorneys at 800-379-1244 or 617-723-7676 or use our contact form.
Summer is here and Breakstone, White & Gluck wants to remind children and families to wear your bicycle helmets.
Helmets are the most effective way to protect yourself from bicycle-related head injuries. Helmet use reduces the chance for head and brain injuries by up to 88 percent, according to the Centers for Disease Control and Prevention (CDC). Please wear your helmet every time you ride – and make sure family members do the same.
Through our Project KidSafe campaign, Breakstone, White & Gluck recently donated children's bicycle helmets at several community events. Children had the opportunity to receive a new helmet and have it fitted by an experienced cyclist or volunteer.
Westborough Bicycle and Pedestrian Advisory Commission. Attorney David W. White joined the Westborough Bicycle and Pedestrian Advisory Commission at Spring Festival on June 10. Breakstone, White & Gluck donated nearly 200 bicycle helmets in Westborough this year, at the Westborough Spring Festival and the Healthy Kids Day at the Boroughs Family Branch of the YMCA of Central Massachusetts (which was held in April). This is the fourth year we have partnered with the Westborough Bicycle and Pedestrian Advisory Commission on these donations.
The Westborough Bicycle and Pedestrian Advisory Commission was appointed by the Board of Selectmen five years ago. Since then, the commission has actively worked to make Westborough safer for bicyclists and pedestrians. Over the past few years, they have advocated for crosswalk and rotary improvements. This year, construction began on the new Westborough multi-use path. The first phase is 1/3 mile and will connect the Westborough Shopping Center to the east side of town. Great work to the commission! This path is sure to make cycling safer in Westborough.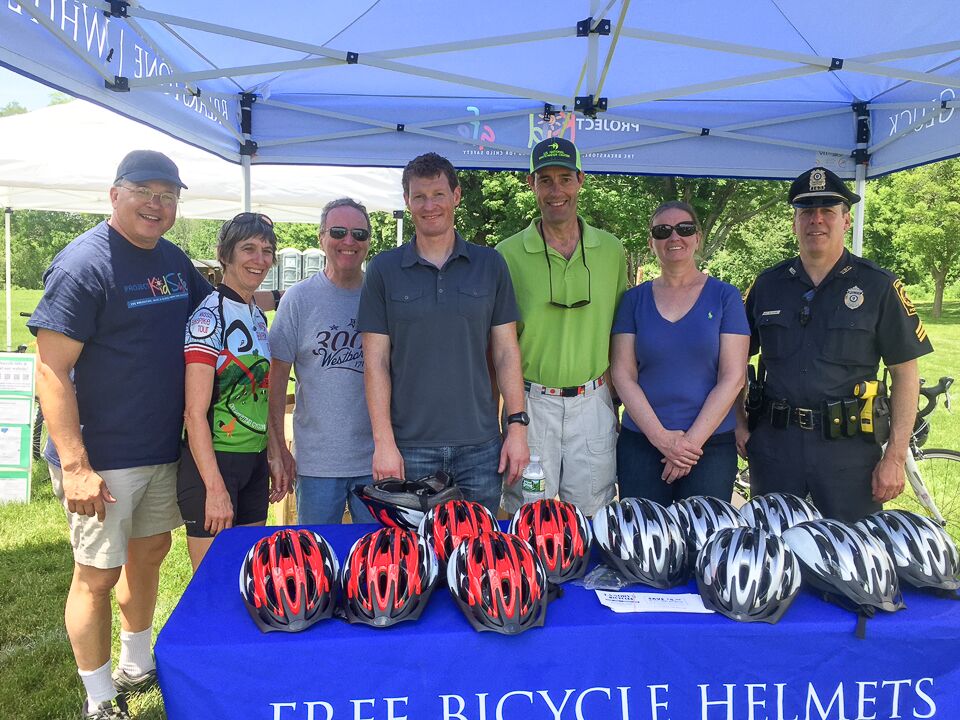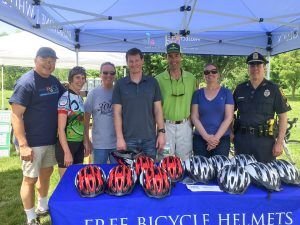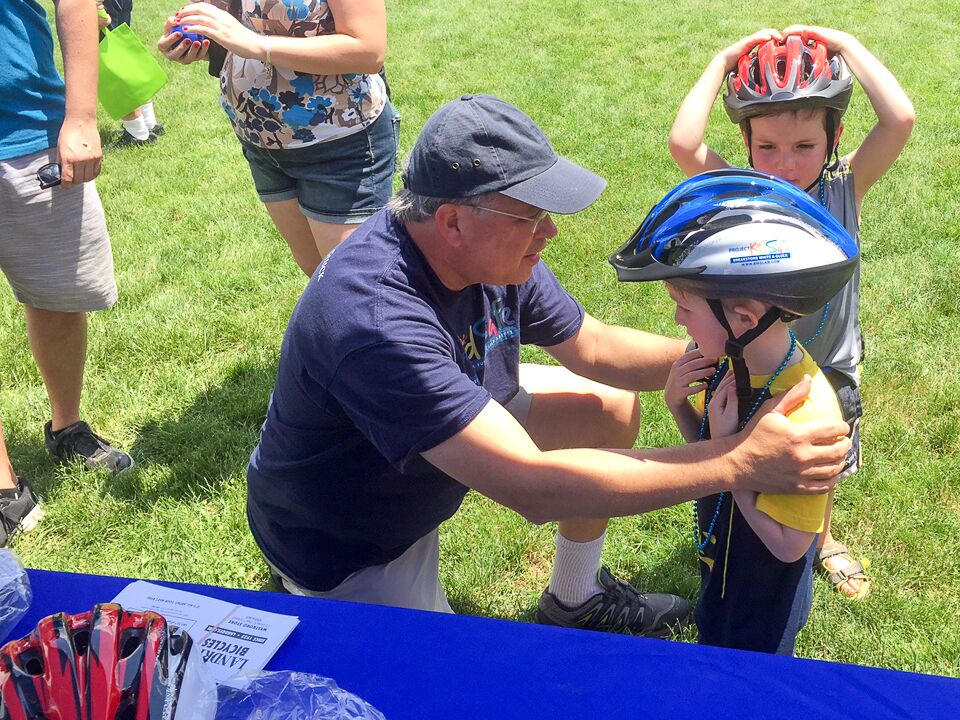 Medford Day. On June 4, the Medford Bicycle Advisory Commission gave away 70 helmets to children and teens at Medford Day at Andrews Middle School. This was our first time partnering with the commission. It was a home run. Members did a great job and are enthusiastic about teaching children and parents about bike helmet use.
"A helmet is one of the most important pieces of bike safety equipment you can wear, but if it doesn't fit right, it's not going to do what it's designed to do when you most need it—which is protect your head from serious injury after a crash," said Patrick Bibbins, chair of the Medford Bicycle Advisory Commission.
Bibbins, an instructor with the League of American Cyclists, has written about bicycle safety for families. He recently published this article: "Bike Safety 101: A Guide for Parents."
Kiwanis Club of Somerville. For the past five years, Breakstone, White & Gluck has been pleased to donate bicycle helmets to the Kiwanis Club of Somerville and its annual Bike Safety Day. This is always a fun event which teaches kids fundamental bicycle safety skills in their own community.
This year's event was held on June 10th at East Somerville Community School. Breakstone, White & Gluck donated 120 helmets for the kids. In addition to the Kiwanis Club of Somerville and Breakstone, White & Gluck, the event received donations and support from Belmont Wheelworks, Shift Community Bicycle Collective, the Greater Boston Young Professional Kiwanis, the Somerville High School Athletics and the staff at the East Somerville Community School.
View the Facebook photo album.