Breakstone, White & Gluck Donates Over 300 Children's Bicycle Helmets in Westborough, Lexington and Dorchester
These are the days when children just want to be outdoors, riding their bikes. We want them to enjoy the experience and always, always wear a bicycle helmet.
Breakstone, White & Gluck recently made bicycle helmet donations in Westborough, Lexington and Dorchester as part of our Project KidSafe campaign. We are committed to protecting young cyclists and are now in the fourth year of our campaign. Along the way, we have donated over 10,000 bicycle helmets to children who need one, with support from community groups, bicycle safety organizations, police departments and schools which organize bike helmet giveaways.
Wearing a properly fitted bicycle helmet is the best way for cyclists to protect themselves against head injuries from falls and bicycle accidents. Under the law, anyone who is 16 years of age or younger in Massachusetts is required to wear one while riding.
Westborough Bicycle and Pedestrian Advisory Committee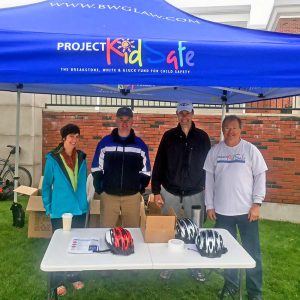 Attorney David White and Bruce Tretter, Westborough Selectman and Chair of the Westborough Bicycle and Pedestrian Advisory Committee, with fellow committee members Ellen Gugel and Glenn McLeod, at Spring Festival in Westborough on May 7, 2016.
We recently partnered with the Westborough Bicycle and Pedestrian Advisory Committee for a third year and distributed nearly 200 bicycle helmets over two weekends.
On April 30th, 120 children's bicycle helmets were distributed to families at the Boroughs Family Branch of the YMCA of Central Massachusetts. The giveaway was part of Healthy Kids Day. On May 7th, Attorney David White joined committee members and together distributed about 80 helmets at the Spring Festival, a three-day event sponsored by the Rotary Club of Westborough.
Discovery Day in Lexington
Over Memorial Day, Lexington held its 37th Annual Discovery Day, a chance for residents to enjoy music, food and learn about local businesses and town government. Families also had the opportunity to learn about bicycle safety at the Lexington Police Department tent. Police officers gave away 100 of our Project KidSafe bicycle helmets to children, while also showing them and their parents how to properly fit the helmets.
This was the third year Breakstone, White & Gluck has donated children's bicycle helmets in the Lexington community. The donations have been arranged by the Friends of the Lexington Bikeways.
UP Academy Dorchester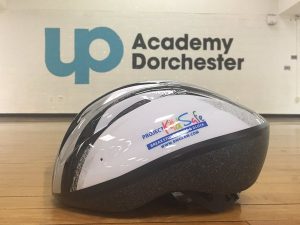 The UP Academy Dorchester wanted to start a conversation with middle school students about bicycle safety. To help, Breakstone, White & Gluck recently donated bicycle helmets and provided safety literature. The UP Education Network is a non-profit management organization which works to turnaround low-performing schools. It operates three tuition-free schools in Boston and two in Lawrence, serving 2,600 of the state's historically underserved students. A new academy will open in Springfield next Fall.
The UP Education Network was founded in 2010, the year Massachusetts passed education reform to re-start low performing schools. Once a school district, city or state identifies a school needs a restart, the UP Education Network can take on full management for the school. The academies operate inside – not independent of – school districts.
About Breakstone, White & Gluck
Breakstone, White & Gluck is a Boston personal injury law firm which is committed to the safety of all bicyclists in Massachusetts. We have over 100 years combined experience representing bicyclists injured by the negligence of others. If you, or a member of your family, has been injured in a bicycle incident, please feel free to contact us for a free legal consultation at 800-379-1244 or 617-723-7676 or use our contact form. Thank you and RIDE SAFE!