Posts Tagged '"winter driving"'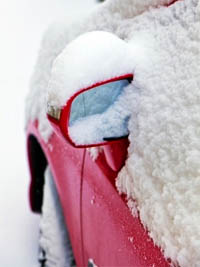 Winter is almost here! We have already seen the first snow flurries in Massachusetts, and it is time for drivers to get prepared for winter driving.
Each year, over 1,300 people are killed and more than 116,800 people are injured in car crashes on snowy, slushy or icy pavement, according to the U.S. Department of Transportation. During snowfall, nearly 900 people are killed in accidents and 76,000 are injured.
Stay safe on the roads this winter. Our Boston car accident lawyers share these tips:
Slow Down! Reduce your speed. When it snows, if you are traveling the speed limit, you are probably traveling too fast for road conditions and are at risk for causing a car accident.
Leave Extra Distance. It takes longer to stop on snowy and icy roads. Increase your following speed to 10 seconds.
Clear Snow and Ice. Make sure your car and windows, including your headlights and turn signals, are free from all snow and ice when you drive.
Gas. Keep your gas tank at least half-full throughout the winter.You will be prepared in case of a serious storm, and you can make sure your gas lines do not freeze up.
Check Your Tires. Inspect your tire tread to make sure your tires are ready for winter. Also, check your tire pressure once a month in the winter.
Exhaust. Keep your exhaust pipe clear of snow.
Practice After the First Snow Storm. On the first icy, snowy day, find a big parking lot that is empty and practicing your skills for handling skids.Teach the new drivers in your home to control a skid the first chance you get.
Highways. If the roads are still being cleared, travel in the lane which has most recently been plowed and avoid changing lanes.
No Cruise Control. Do not use cruise control on slippery roads.
Pedestrians. Remember you may not be able to see pedestrians around snow banks. Reduce your speed and take an extra minute to check for them at intersections.
Check Your Auto Insurance. Check your auto insurance policy. Many people do not have enough insurance to pay their medical bills if they were injured on the road. A few important coverage types to ask your agent about: Underinsured, Uninsured and Medical Payments coverages. Read our attorneys' article.
Read More