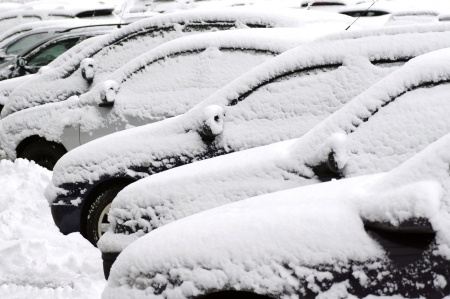 More snowfall today just means more frustration for many of us in Massachusetts. Before today, the Boston area had already seen more than 53 inches of snow this winter, 10 inches more than the total annual average. Worcester is also close to setting a record, recording 72 inches, just four inches away.
Much of the snow has fallen hard during the past two weeks, during the Blizzard of 2015 and other storms. A Washington Post headline summed it up best: "Boston's record-setting snow blitz – a winter's worth of snow in less than 10 days."
Those 10 days should be done now. But Mother Nature just keeps throwing down snow, though she gave the Patriots a reprieve, allowing them to hold their Super Bowl parade in Boston this week. But even the professional football team had to postpone a day to avoid the bitter cold and to let the City of Boston catch up on the clean-up.
---
More snow is expected this weekend. A few things to remember:
Clearing Snow from Your Property. Homeowners in Massachusetts have a responsibility to clear the snow and ice from their driveways, walkways and other areas of their property. It is important to make sure your family and others, such as friends, postal carriers and delivery workers, can safely visit your property without slipping and falling.
If someone slips and falls on your property, you could be held liable for damages, even if they are uninvited. For a long time, Massachusetts law regarding snow and ice injuries exempted property owners from liability if someone was injured as a result of snow that naturally accumulated and had not been cleared. But in 2010, the Supreme Judicial Court overruled this nearly century old rule. There is now a clear directive that Massachusetts property owners must remove snow and ice. The case is Papadopoulos v. Target Corporation, SJC-10529 (July 26, 2010). Here is a past blog and a Lawyer Alert we wrote on the ruling.
---
Snow Blower. Make sure you read the instructions and understand your snow blower before using it in heavy snow conditions. If the snow blower is jammed DO NOT attempt to clear it by hand. Even if the blower is not running, it can have stored up mechanical energy that can deliver devastating injuries. Check with the manufacturer and the Consumer Product Safety Commission at the start of each winter to see if there have been any product recalls.
Here is a resource for safe use of snow blowers.
---
Shoveling Snow Safely. While you must clear the snow, you also have to be safe. Snow removal can lead to injuries, some minor and some very serious, such as heart attacks, dehydration, pulled muscles, broken bones from slip and falls and frostbite. Always consult with your doctor if you concerned about your ability to undertake this strenuous exercise.
If you shovel, drink plenty of water, stop periodically to stretch and dress in layers so you can easily remove one if you get overheated. Try to push the snow, rather than lift it, when you can. Here is an article about shoveling snow safely.
---
Driving and Taking Public Transportation. Be patient. Limit your time on the road if you can. The Governor of Massachusetts declared a state of emergency and travel ban during the recent blizzard. Many employers closed their offices then and since on other days of heavy snowfall.
When you have to travel, consider public transportation when you can or stagger your work day schedule if it helps and your employer allows this.
If you ride the MBTA, monitor the website, app or local TV stations. Red Line and Orange Line commuters faced significant delays this week, with 40 percent of the cars disabled for mechanical problems. Many commuters were left standing outside in the cold, waiting for trains or had to take buses. Systems are failing all over the state.
---
Walking. The snowbanks are tall and the roads narrow in many areas, making it hard to walk. If you must walk outside, wear visible clothing, including a bright safety vest if you have one, so you are visible to drivers. Walk on sidewalks and carefully look around snowbanks before stepping into the streets, even at crosswalks.
Watch out for regular traffic, as well as snow plows. A Weymouth woman was killed in a pedestrian accident this week when she was struck by a plow driver at her condominium complex.
Carry your cell phone in case of an emergency but do not use it while walking. Also do not wear headphones and listen to music when trying to face the complications of winter travel.
Read More
If you are a property owner, today is a good time to inspect your driveway and walkways. Even if you worked hard to clear all the snow yesterday, go out and take a second look. The deep freeze is setting in and more snow is forecast for tomorrow, creating the potential for slip and fall accidents.
Why is this important? In addition to making it easier for your family to come and go from your home, you have a duty to use reasonable care to clear snow and ice under Massachusetts law. If you neglect this, you could be liable for any injuries that result.
Massachusetts Law on Snow and Ice Removal The law for clearing your property is more strict than in past years. It changed in 2010, with the Massachusetts Supreme Judicial Court's decision in Papadopoulos v. Target Corporation, SJC-10529 (July 26, 2010). View TV interviews from 2010/2011 in which attorney David White explains the law.
Prior to then, property owners were liable for injuries sustained on what was known as "unnatural accumulations" of snow or ice. Examples of this are gutters leaking onto sidewalks or snow piled on sidewalks.
The state's high court changed the longstanding law so it falls in line with other states. Massachusetts property owners now have a responsibility to keep their premises in a reasonably safe condition and clear all snow and ice, whether it is a natural accumulation by Mother Nature or pushed there by a plow.
This law applies to homeowners as well as commercial property owners.
A few points to remember when it snows:
You have a responsibility to clear your driveway, sidewalks and other areas accessible to the public.
If you are using a snow blower, remember a shovel for narrow and hard-to-reach areas.
Do you have the physical ability and time to clear your snow this year? If not, consider contacting a snow removal company.
Cities have responsibility for clearing sidewalks, but some have ordinances requiring residents to clear their own. These include Boston, Worcester and Newton.
Safety
We all have to balance our legal responsibility to clear the snow with safety. It is hard work and tempting to take shortcuts at times. Remember a few basic safety rules. Do not start your snow blower in your garage or other covered areas. Before you shovel your driveway, clear your home's heating vents so carbon monoxide does not build up in your home. Then, make sure you dress in layers and take breaks as needed.
Related:
Snow removal law may face test, Boston Globe, Dec. 25, 2010.
Read More