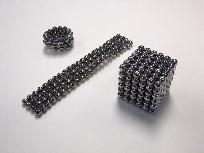 The Consumer Product Safety Commission (CPSC) has taken a rare legal action seeking to stop sales of a magnet desk toy, alleging children are swallowing the pieces, then suffering serious injuries requiring surgery.
The CPSC filed an administrative complaint on July 25 against Maxfield & Oberton Holdings LLC, of New York, N.Y., the maker of Buckyballs and Buckycubes. The government agency and company failed to agree on the CPSC's proposed voluntary recall plan for the magnet sets with 216 units.
The CPSC alleges the popular desk furnishing contains a defect in design, packaging, warnings and instructions. It wants the company to stop selling the defective product, notify the public about potential for injury and offer consumers a full refund. It is the CPSC's second time taking this type of legal action in 11 years.
The CPSC is intervening after receiving more than two dozen of reports young children and teenagers have swallowed the magnets, requiring surgery. At least a dozen involved Buckyballs.
When two or more magnets are swallowed, they can move toward each other through the stomach and intestinal walls, resulting in serious injuries such as holes in the stomach, intestinal blockage, blood poisoning and possible wrongful death.
The CPSC reports young children are removing the magnets from the kits and placing them in their mouth. Meanwhile, older children and teenagers have unintentionally swallowed the magnets while placing them in their mouths to mimic having a tongue ring.
At least 10 retailers, including Amazon.com, have agreed to stop selling the defective product. EBay is also removing these listings from its online marketplace.
In May 2010, the CPSC and Max & Oberton conducted a cooperative recall of about 175,000 Buckyball magnet sets for mislabeling. The toys were labeled "Ages 13+" and did not meet the federal toy standard that loose magnets not be sold for children younger than 14. Injury reports preceded and followed the notice.
In November 2011, the CPSC and Max & Oberton worked cooperatively to warn about the dangers that could occur, but injuries continued, leading to the CPSC's latest action. The CPSC now says a recall is necessary because all these prior steps have been ineffective.
Related:
CPSC Sues Maxfield & Oberton Over Hazardous Buckyballs and Buckycube Desk Toys, Consumer Product Safety Commission.
Feds file suit against Buckyballs, retailers ban product, USA Today.