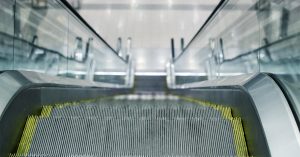 Commuting is a major stress in the Boston area. Having to ride the MBTA should ease the burden. But it often just adds anxiety, especially for commuters at the Route 128/University Station in Westwood.
Two news stories have put the spotlight back on the long-running equipment and system problems at the Westwood station, including out-of-service elevators and escalators. Offering both MBTA and Amtrak train service, the Westwood station serves half a million commuters each year. When systems are running on time, you can take the MBTA into Boston in less than a half hour. The MBTA also offers service to Providence or Amtrak provides travel beyond Rhode Island.
With over 2,500 spaces, the Westwood station is also one of the rare MBTA stops where you can still find a parking space. The problem is walking through the station.