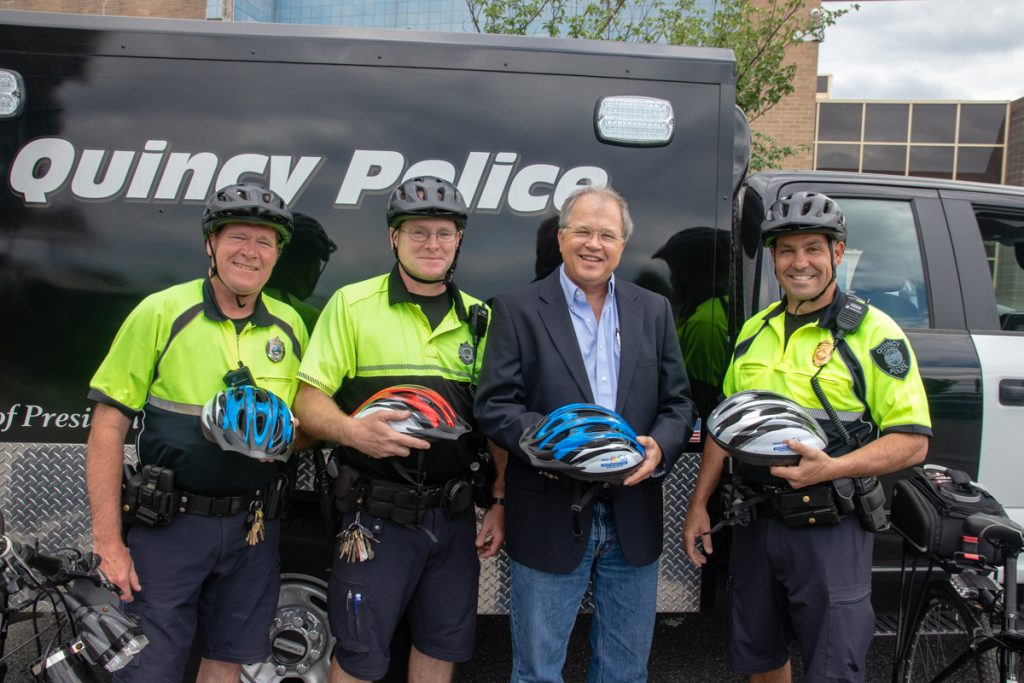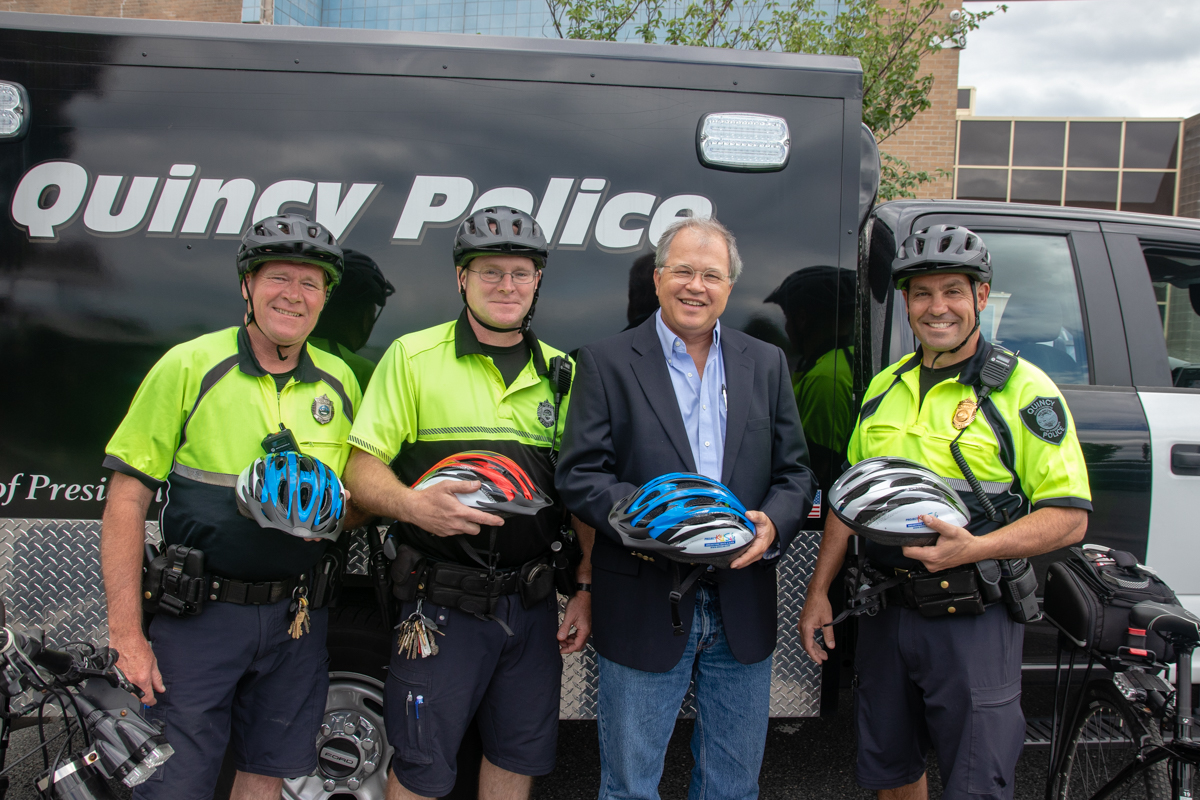 As part of our Project KidSafe campaign, Breakstone, White & Gluck was pleased to make a donation of 200 bicycle helmets to the Quincy Police Department this year. Attorney David W. White visited Quincy Police Department headquarters on June 14th and had a nice opportunity to speak to members of the Quincy Police bike patrol.
Read more about the donation in the Patriot Ledger newspaper (June 19, 2018).
Learn more about our attorneys and our Project KidSafe campaign.
On a bike, wearing a helmet is the most important step, Quincy police officers said yesterday.
Breakstone, White & Gluck and the Quincy Police Department teamed up to give away 100 new bike helmets on Monday, during the department's annual D.A.R.E camp at Pageant Field. But first, Lieutenant Bina and other bike safety officers shared tips for riding safely.
First, the officers said wearing a helmet saves lives and is the law for kids in Massachusetts. Officers then knocked down a big myth, that wearing a helmet does not look cool. "Oh, it's definitely cool," officers assured the kids. "And please share the message with your friends." As proof, Lieutenant Bina modeled his own helmet. Everyone agreed. He looked cool.
Other tips? At red lights, cyclists must stop. But at crosswalks, officers suggested kids get off their bikes and walk across the street with pedestrians. Wearing bright colors to stand out is a must, while riding with friends is a good way to watch out for each other. And because bikes are too easily stolen, every cyclist should have a bike lock.
The officers' final tip: always replace helmets if they crack, if you take a fall or are involved in a bike accident. Helmets must be in good condition to protect you.
Quincy Police Department is hosting roughly 100 students at its two-week DARE camp. The camp is open to students across the city, but space is limited and it fills up quickly. The camp provides students a way to learn about the police department, with visits from officers from all areas of the department, and to have a fun summer experience with other kids and police officers.
Breakstone, White & Gluck and our Project KidSafe campaign have partnered with the Quincy Police Department twice this year, donating a total of 200 helmets for city kids. In April, we donated 100 helmets for the Healthy Kids Day event at the South Shore YMCA and for officers on patrol to give to children who needed one. This week's donation went to older kids heading to middle school this Fall.
About Project KidSafe
Since 2013, Breakstone, White & Gluck and our Project KidSafe campaign have donated over 10,000 bike helmets to protect children in Massachusetts. Our firm has represented cyclists who have been injured in bike accidents for over 25 years and we know that wearing a helmet can make all the difference for a cyclist. We are committed to protecting cyclists and preventing head injuries. Toward that goal, we have partnered with over 40 police departments, bicycle committees, community organizations and schools who are committed to keeping children safe. We are pleased to partner with Quincy Police.
About Breakstone, White & Gluck
With over 100 years combined experience, the attorneys of Breakstone, White & Gluck fight for justice for those who have been injured by negligence and wrongdoing of others. If you have been injured, contact us for a free legal consultation at 800-379-1244 or 617-723-7676 or use our contact form.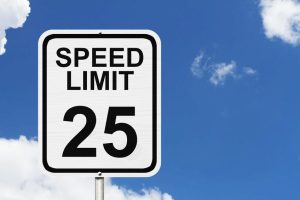 Over the past year, Boston, Cambridge and several other communities have lowered default speed limits from 30 to 25 mph, with a goal of creating safer streets for pedestrians and cyclists. Now it is Quincy's turn.
Last week, the Quincy City Council passed a measure establishing a speed limit of 25 mph, unless another speed limit is posted. The previous speed limit had been 30 mph. Once Mayor Thomas P. Koch signs the new law, officials will decide on an effective date.

In January 2017, the City of Boston dropped its default speed limit from 30 to 25 mph.
Lowering the speed limit was a key part of the Vision Zero Boston campaign, which was launched by Mayor Marty Walsh in 2015. The goal is to end traffic deaths and serious injuries in the City of Boston by 2030, through a combination of efforts, such as reducing speeds, eliminating distracted driving, and improving infrastructure for safer riding, walking and cycling.
While lowering speed limits was a critical step, the City of Boston was unable to act right away.
First, the city had to obtain approval from the state Legislature and Gov. Charlie Baker. Baker signed the Municipal Modernized bill in August 2016, which gave Boston, as well as cities and towns across the state, authority to reduce the default speed limit on local roads. 
So far, these communities have reduced speed limits:
Boston

Cambridge

Somerville

Arlington

Newton

Randolph

Scituate

Quincy (approved by City Council)
Source: The Boston Globe.
Benefits to Slower Speed Limits
There is strong evidence that slower traffic means safer streets. An excellent example is New York City. In 2014, the city lowered speed limits to 25 mph on 90 percent of its streets. Over three years, traffic fatalities have decreased 23 percent and fell to the lowest number in the city's history in 2016.
Boston city officials say that when crashes happen, faster vehicles are likely to cause the most serious injuries and fatalities. According to the City of Boston website, at 20 mph, there is a 17 percent likelihood that someone will be seriously injured or killed. At 40 mph, there is a 79 percent likelihood. Slower vehicles can be stopped more quickly, and the slower speeds allow for longer reaction times.
Read More