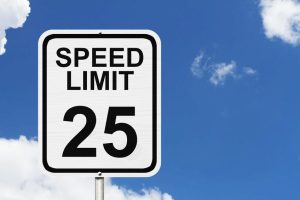 Over the past year, Boston, Cambridge and several other communities have lowered default speed limits from 30 to 25 mph, with a goal of creating safer streets for pedestrians and cyclists. Now it is Quincy's turn.
Last week, the Quincy City Council passed a measure establishing a speed limit of 25 mph, unless another speed limit is posted. The previous speed limit had been 30 mph. Once Mayor Thomas P. Koch signs the new law, officials will decide on an effective date.

In January 2017, the City of Boston dropped its default speed limit from 30 to 25 mph.
Lowering the speed limit was a key part of the Vision Zero Boston campaign, which was launched by Mayor Marty Walsh in 2015. The goal is to end traffic deaths and serious injuries in the City of Boston by 2030, through a combination of efforts, such as reducing speeds, eliminating distracted driving, and improving infrastructure for safer riding, walking and cycling.
While lowering speed limits was a critical step, the City of Boston was unable to act right away.
First, the city had to obtain approval from the state Legislature and Gov. Charlie Baker. Baker signed the Municipal Modernized bill in August 2016, which gave Boston, as well as cities and towns across the state, authority to reduce the default speed limit on local roads. 
So far, these communities have reduced speed limits:
Boston

Cambridge

Somerville

Arlington

Newton

Randolph

Scituate

Quincy (approved by City Council)
Source: The Boston Globe.
Benefits to Slower Speed Limits
There is strong evidence that slower traffic means safer streets. An excellent example is New York City. In 2014, the city lowered speed limits to 25 mph on 90 percent of its streets. Over three years, traffic fatalities have decreased 23 percent and fell to the lowest number in the city's history in 2016.
Boston city officials say that when crashes happen, faster vehicles are likely to cause the most serious injuries and fatalities. According to the City of Boston website, at 20 mph, there is a 17 percent likelihood that someone will be seriously injured or killed. At 40 mph, there is a 79 percent likelihood. Slower vehicles can be stopped more quickly, and the slower speeds allow for longer reaction times.
Read More