Posts Tagged 'jaywalking'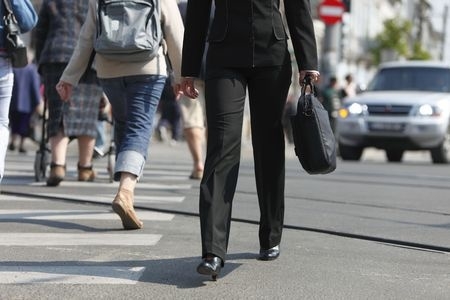 Pedestrians now have to watch out for more than just traffic in two major cities.
Jaywalking laws have traditionally gone unenforced in many cities, but New York City and Los Angeles are now telling pedestrians to follow the letter of the law or face citation. Pedestrians are surprised, and in some cases, are facing hefty fines for crossing the street before the traffic signal changes. One man in Los Angeles was ticketed $197 as he walked to work.
"I didn't even know that was against the law," he told the New York Times. "I was like, "You are the L.A.P.D., and this is what you are doing right now?"
New York City Police are taking the same steps. The city saw 12 pedestrian fatalities in January, prompting new Mayor Bill de Blasio to announce Vision Zero, a plan to eliminate traffic deaths within 10 years. Vision Zero focuses largely on drivers, but at the same time, New York City Police have started enforcing jaywalking laws.
Pedestrians have responded strongly against enforcement, both in Los Angeles and New York City. In Los Angeles, a lawyer who was ticketed as he walked to a local courthouse told the New York Times:
"Honestly, I cussed them out for about five minutes. I told them what a stupid waste of time this was, and wasn't it great that they had two police officers standing there when there are obviously more important issues out there."
In New York City, an 84-year-old man, Kang Wong, has filed notice he plans to sue the city and police department for $5 million. He alleges he was pushed against a wall and beaten as he was cited, sustaining head injuries and other trauma.
In New York City, three of the pedestrians were killed in the Upper West Side, near Broadway and 96th Street. They were a 9-year-old boy who was hit by a taxi as he crossed the street with his father, a young doctor struck by an ambulance outside her apartment building and a 73-year-old man hit by a tour bus.
After these deaths, the city installed electronic signs warning pedestrians to use the crosswalks. Police stood by with a bullhorn, citing pedestrians who violated jaywalking laws $40-$100.
Every city has an interest in this conversation, including here in Boston and Massachusetts. Our state sees an average of 86 pedestrian deaths each year, nearly one fifth of all traffic fatalities, according to WalkBoston, a non-profit advocacy organization which represents pedestrians and 75 cities and towns across the state.
But rather than ticket pedestrians, WalkBoston advocates for improving infrastructure and education. For instance, it notes that 90 percent of pedestrians killed are struck by cars traveling 40 mph compared to 5 percent who die by cars traveling at 20 mph. One way to encourage drivers to slow down is to reduce travel lane widths, the organization says.
Perhaps you are wondering what the fine for jaywalking is in Massachusetts. We hope you are sitting down: It is $1.00! But after three offenses, the fine doubles M.G.L. c. 90, § 18A. Municipalities won't balance their budgets on jaywalking tickets, that's for certain.
Related:
New York City takes aim at jaywalking, The Boston Globe.
Read More