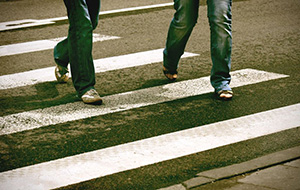 During the first two weeks of 2016, Massachusetts has already seen several serious pedestrian accidents.
Last weekend, a 56-year-old security guard leaving work was killed in a hit-and-run accident on West Boylston Street in Worcester. Police have charged a 21-year-old man with motor vehicle homicide by negligent operation and other violations.
Last week, a 68-year-old pedestrian was killed in South Hadley, as he crossed the street in front of his home. In that case, the driver remained on the scene and police opened an investigation.
In Palmer, a 59-year-old pedestrian was killed while using a crosswalk at the intersection of North Main and Rockview streets. The pedestrian accident occurred about 5 p.m. in the day and the driver fled the scene.
Then in Cape Cod, a 19-year-old man was also killed when hit while crossing Route 28 in Yarmouth.
A few concerns for pedestrians in the winter:
Plow trucks. Last winter, at least two pedestrians in the Boston area were killed in parking lots by snow plow trucks. A 60-year-old employee at the Whole Foods store in Medford was struck and killed while walking across the store's parking lot. A few days earlier, a Weymouth woman was hit and killed by a snow plow driver who was clearing the parking lot outside her condominium complex.
Parking lots. Pedestrians are just as vulnerable in parking lots as they are in streets. Last week, a pedestrian was hit in the South Street shopping plaza in Holyoke, in front of the Save-A-Lot supermarket.
Crosswalks. In Massachusetts, pedestrians who are crossing the street in a crosswalk or at an intersection with the "Walk" signal have the right of way. But drivers often fail to stop for pedestrians – and sometimes crossing guards. A crossing guard in Holyoke was struck by a car and injured at 8 a.m. one day last week.
About Our Experience
The Boston personal injury attorneys at Breakstone, White & Gluck have over 100 years combined experience representing individuals who have been injured in pedestrian accidents. Attorney Ronald E. Gluck recently negotiated a $1.25 million settlement for the family of a woman who was hit and killed in a crosswalk.