Breakstone, White & Gluck Participates in Bike Friday
Today was Bike Friday, sponsored by Boston Bikes, the city office which promotes safe cycling. Bike Friday is one of the last events of Bay State Bike Week. It included a number of organized rides and a gathering at Boston City Hall. Breakstone, White & Gluck was there to share information about our Project KidSafe campaign.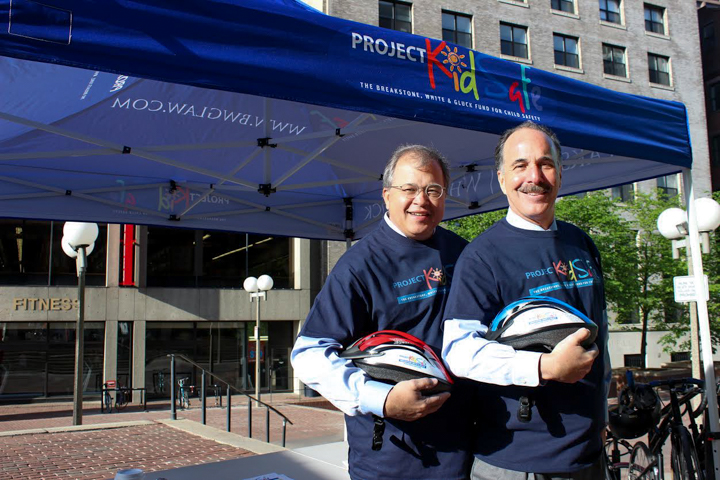 Attorney David W. White and Attorney Marc L. Breakstone of Breakstone, White & Gluck participated in Bike Friday at Boston City Hall Plaza. The two attorneys were there to support the cyclists as they rode in and to share information about the firm's Project KidSafe campaign.
---
Boston Bikes organizes Bike Fridays to celebrate those who ride their bikes to work and to encourage others. More than two dozen organizations and vendors signed up for today's event. While 200 cyclists registered for the event, organizers estimated up to 350 cyclists actually pedaled in and enjoyed a free breakfast, courtesy of Boloco.
Breakstone, White & Gluck participated for the first time and set up our Project KidSafe tent to show support for the cyclists. Attorneys David W. White and Marc L. Breakstone were among the crowd waiting for the cyclist convoys, which came in from Lexington, Newton, Somerville and many other communities.
Other organizations which participated included MassBike, Boston Cyclists Union, Livable Streets Alliance, Hubway and Landry's Bicycles.
Marc and David spoke to a number of cyclists about our Project KidSafe initiative, through which we donate bicycle helmets to children who need one in the Boston and Worcester areas. We have donated more than 4,000 bicycle helmets since 2013, through partner organizations such as CYCLE Kids of Cambridge, Somerville and Cambridge public schools, Bikes Not Bombs, Massachusetts Safe Routes to Schools, the Westborough Bicycle and Pedestrian Advisory Committee. We have also worked with Boston Bikes' Roll It Forward program, which refurbishes used bicycles and donates them to city residents who may not otherwise have access to a bicycle.
After the event, Marc said, "It is rewarding for us to be able to give back to the community in a way that promotes safety for children. We look forward to continuing our Project KidSafe program, and to expanding it in the years to come."
The next Bike Friday events are scheduled for June 26th, July 24th and August 28th. Read more about the event.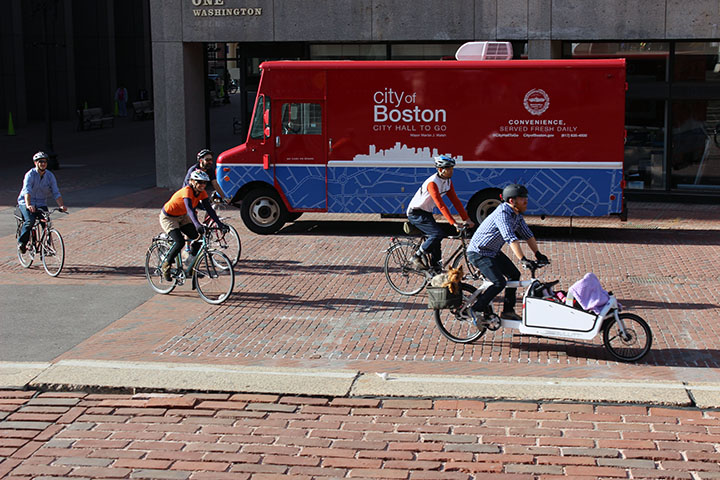 The cyclists came in in convoys this morning, traveling in from Lexington, Arlington and other communities. While 200 cyclists registered in advance, organizers estimate 350 actually rolled in.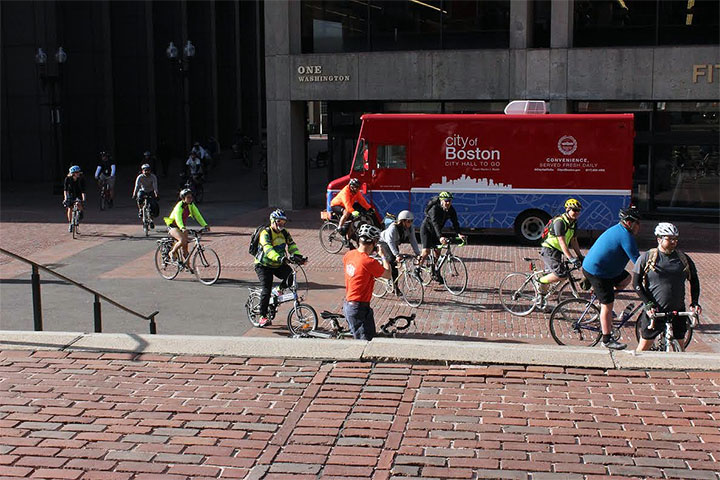 About Breakstone, White & Gluck
The Boston personal injury lawyers at Breakstone, White & Gluck are committed to safety and helping individuals and families who have been injured due to the negligent of others. If you have been injured, learn your rights. For a free legal consultation, contact us at 800-379-1244 or 617-723-7676 or use our contact form.