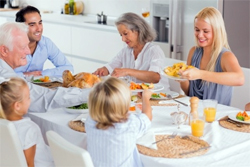 The lawyers and staff at Breakstone, White & Gluck wish you a very Happy Thanksgiving. We hope you enjoy this special time with family over a tasty meal (with plenty of leftovers!). We also appeal to you to take a few steps for safety's sake:
Drive Safely. AAA projects nearly 39 million U.S. travelers will drive 50 miles or more from home this Thanksgiving holiday weekend. If you can, avoid traveling during busy times such as Thanksgiving Eve. No matter when you drive, make sure you pay attention, monitor traffic reports, never drive when you are drowsy and start your trip with a full tank of gas.
Distraction-Free Driving. Commit to not use your cell phone while driving, especially in traffic congestion. Do not make phone calls or text while driving, the latter of which is against the law in Massachusetts. If you are using your cell phone as a GPS, have someone in the passenger seat handle your phone.
Smoke Alarm Batteries. Change your smoke alarm batteries, if you did not do so in early November, when Daylight Saving Time ended. About two-thirds of home fire deaths occur in homes with no smoke alarms or working smoke alarms, according to the Consumer Product Safety Commission (CPSC). You should test the batteries in all your home's smoke alarms monthly.
Cooking Fires. The threat of a cooking fire triples on Thanksgiving, according to the CPSC. Stay in the kitchen while frying, grilling or broiling food. If you have to step away, turn off the stove.
Prevent Food Poisoning. A few reminders are regularly wash your hands in the kitchen, along with food surfaces and utensils. Separate raw meat and poultry from other food. Cook your turkey to a safe minimum internal temperature of 165 degrees. The Centers for Disease Control and Prevention also recommends cooking your stuffing in a separate dish outside the turkey. As for leftovers, make sure to eat within three or four days.
Keep Children Away From Food. Keep young children out of the kitchen while cooking. They could spill hot liquids or scald their skin on the oven.
Look for Hazards to Children. If you are at an unfamiliar home, do a visual scan of potential dangers for children. Keep them away from brick fireplaces, garage entrances and other hazards which could cause them injury.
Turkey Fryers. The National Fire Protection Association discourages use of turkey fryers. But if you use one, make sure you take it outside, a good distance from your home or any structure. Do not cook on the roof of apartment or condominium buildings. Dress so you are prepared to deal with hot oil spills and never leave the fryer unattended.
No Drinking and Driving. Do not drive after consuming alcohol. You risk seriously injuring yourself or someone else in a car accident. You could also be criminally charged.
This message is especially important on Thanksgiving. Mothers Against Drunk Driving (MADD) reports drunk driving deaths continue to increase during the holiday season. Many accidents occur on Thanksgiving Eve – a day it calls Blackout Wednesday – and the early hours of Thanksgiving Day. In 2010 alone, 174 people in the U.S. were killed during the Thanksgiving holiday weekend, in addition to many others who were injured.
Related:
14 Things to Know About Traveling on Thanksgiving Weekend in Massachusetts, North Reading Patch.
Boston Traffic Reports, Boston.com.
It's Turkey Time: Safely Prepare Your Holiday Meal, Centers for Disease Control and Prevention.
Thanksgiving Home & Travel Safety Tips, Mass.gov.

About Breakstone, White & Gluck
The Boston and Cambridge personal injury lawyers have over 100 years combined experience handling injury claims in Massachusetts. If you have been injured, learn your rights. For a free legal consultation, contact us at 800-379-1244 or 617-723-7676 or use our contact form.