Motor Vehicle Accidents Increase When Teen Drivers Carry Teen Passengers, Study Reports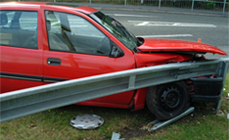 Among drivers, teenagers have long been known as the most likely to be involved in car accidents. But a new study released by AAA's Foundation for Traffic Safety is now quantifying how much that risk increases when teen drivers travel with other teens.
The study relies on federal fatality statistics and shows the risk for a fatal motor vehicle accident increases by almost half when a 16- or 17-year-old driver has one teen passenger in the car. The risk for a motor vehicular fatality doubles with two passengers and quadruples with three or more.
During the past decade, many states have implemented graduated licensing laws which have increased training requirements for new drivers, while also placing restrictions on passengers and hours of operation.
The Massachusetts' junior operator license law prevents drivers from carrying passengers under the age of 18 during the first six months of having a license. There is an exception for siblings.
The law further bans teen drivers under 18 from operating between 12:30 a.m. and 5:00 a.m. unless accompanied by a parent or guardian.
In 2010, the state of Massachusetts strengthened junior operator restrictions when it banned the practice of texting while driving for all drivers. While most drivers face a fine for first-time offenses, teens face heavier penalties of fines, license suspensions and are required to attend retraining classes.
Drivers age 18 to 20 report the most phone use during motor vehicle accidents, according to the National Highway Traffic Safety Administration (NHTSA). The age group is three times more likely to report they are reading or sending a text message or e-mail during a car accident than drivers over age 25. Reports of texting while driving drops significantly as age increases, the NHTSA figures show.
We urge parents to strictly enforce junior operator laws in their homes. In addition to helping teenage drivers get experience without distraction, preventing use of a family car in violation of the junior operating laws is one way to avoid claims for negligent entrustment of an automobile.
Related:

The Boston motor vehicle accident lawyers at Breakstone, White & Gluck have over 80 years combined experience in handling Massachusetts auto accident cases. If you have been injured in an accident, it is important to learn your rights for seeking compensation. For a free legal consultation, contact us today at 800-379-1244 or 617-723-7676 or use our contact form.