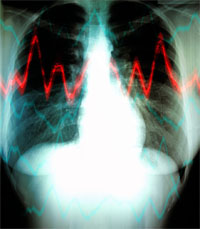 The Food and Drug Administration (FDA) has ordered St. Jude's Medical to expand studies into Durata defibrillator leads, saying the heart devices are sufficiently similar to Riata leads, which were recalled last year. The agency is also seeking new data on Riata.
Defibrillators are implanted in patients with abnormal heart rhythms to regulate the heart beat. The medical devices are connected to the heart with leads. Riata was recalled because in some cases, wires were breaking through the insulation, which can potentially lead to a life-threatening abnormal heart rhythm.
A recent St. Jude study of 700 Riata patients found the defective wire broke through the insulation in about 19 percent of cases. A study led by a Minneapolis Heart Institute cardiologist has linked Riata leads to 20 deaths.
St. Jude, of St. Paul, Minnesota, pulled the defective Riata leads off the market in December 2010 and the FDA issued a medical device recall in late 2011. A 2011 count found 79,000 patients were still implanted with the Riata leads.
Responding to the FDA order, St. Jude said it is already collecting data on both Riata and Durata. The company stated the medical devices are different in design and a new coating meant to protect the insulation.
The FDA's orders include routine X-rays for patients enrolled in post-market Durata studies to identify any insulation problems. St. Jude must also perform X-rays in a three-year post-market study on the defective Riata leads. The goal is to detect extruded leads which are floating loose in the heart.
Surgery to remove extruded leads can be dangerous. St. Jude says many patients live with the loose wires and continue to function normally. The FDA has advised doctors to closely monitor patients.
Related: