Posts Tagged 'pedestrian'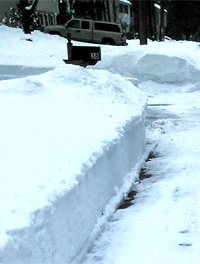 After a snow storm that buried Massachusetts with record-setting strength, many of us are slowly making our way back to our daily routines.
Massive snow banks, narrow roads and giant icicles are now the challenge. Governor Deval Patrick has lifted the weekend's driving ban, but the State of Emergency remained in effect this morning. Many schools cancelled classes for another day and Boston Mayor Tom Menino encouraged businesses to let their employees work from home today.
Our tips for staying safe and avoiding injuries as you travel:
Community Websites. Check your community website for information about snow plowing and closed streets, as well as power outages and school closures.
Public Transportation. Use the MBTA if you are traveling into Boston. Mayor Menino is urging the public to stay off the roads to make room for cleanup.
Store and Pharmacy. Choose merchants close to home if you are heading out to restock up on food, medications and other supplies. Travel in daylight if possible.
Pedestrians Use Caution. Stay indoors today. Over the next few weeks, limit outdoor walks until the snow melts. If you must walk, wear a neon-colored vest.
Drivers. If you do drive, beware of the tall snowbanks and avoid roads which may not be fully cleared. Remember some roads may not have enough space for two-lane traffic.
Parking. Call ahead to ask about parking, even to your employer. Parking may not be available or be limited. Looking for spaces can lead to frustration among drivers and car accidents.
Gasoline and Vehicle Supplies. Keep your gas tank full over the next few days and equip your car with supplies such as a first aid kit, snow brush, small shovel, blanket and an extra hat and pair of mittens.
Take a Minute. Driving in these conditions can be stressful and accidents can occur. If you find yourself in a dangerous situation, pull over at your earliest opportunity. Take a minute to think about your options and if necessary, call the local police or fire department on their non-emergency line and ask for their direction.
Related:
Massachusetts Emergency Management Agency App.