The iCan Shine bike camp is back in Arlington this week, teaching local children and teenagers with disabilities how to ride bicycles. iCan Shine is a national charitable nonprofit which provides cycling training for children and teenagers with autism, Down Syndrome and other disabilities. Breakstone, White & Gluck donated bicycle helmets to the camp for the second year and attorney Ronald Gluck visited with them this week.
---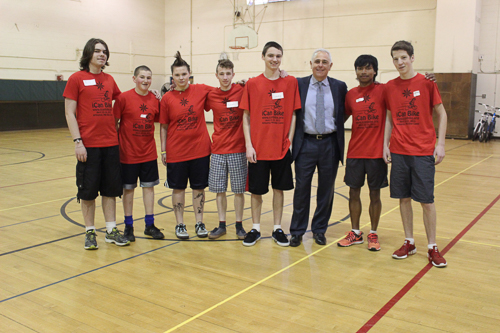 Photo: Attorney Ronald Gluck with the volunteers at the iCan Shine bike camp in Arlington, where Breakstone, White & Gluck donated bicycle helmets to the children and teenagers with disabilities who are learning to ride a bicycle this week. A few staffers from the national iCan Shine organization travel in to teach while local volunteers organize and fund-raise for the camp. Many volunteers also attend, giving their time to guide, steer and support the riders through each lesson.
---
Local communities throughout the U.S. coordinate these one-week camps and the national organization sends instructors with specialized training. The Pennsylvania organization, which was founded in 2007, serves nearly 3,000 people with disabilities each year. By the end of each five-day program, 80 percent of the bicyclists who attend an iCan Shine bike program are able to ride a two-wheel bicycle independently.