iCan Shine Bike Camp Teaches Bicycle Safety to Children and Teenagers with Disabilities
The iCan Shine bike camp is back in Arlington this week, teaching local children and teenagers with disabilities how to ride bicycles. iCan Shine is a national charitable nonprofit which provides cycling training for children and teenagers with autism, Down Syndrome and other disabilities. Breakstone, White & Gluck donated bicycle helmets to the camp for the second year and attorney Ronald Gluck visited with them this week.
---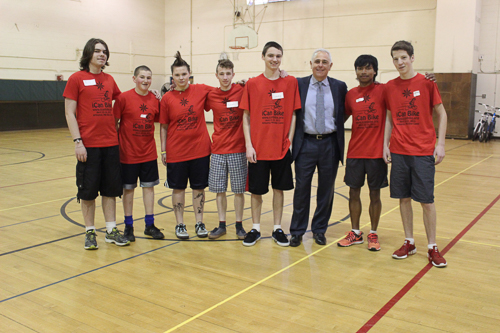 Photo: Attorney Ronald Gluck with the volunteers at the iCan Shine bike camp in Arlington, where Breakstone, White & Gluck donated bicycle helmets to the children and teenagers with disabilities who are learning to ride a bicycle this week. A few staffers from the national iCan Shine organization travel in to teach while local volunteers organize and fund-raise for the camp. Many volunteers also attend, giving their time to guide, steer and support the riders through each lesson.
---
Local communities throughout the U.S. coordinate these one-week camps and the national organization sends instructors with specialized training. The Pennsylvania organization, which was founded in 2007, serves nearly 3,000 people with disabilities each year. By the end of each five-day program, 80 percent of the bicyclists who attend an iCan Shine bike program are able to ride a two-wheel bicycle independently.
Arlington resident Nina Fischer brought the iCan Shine camp to Massachusetts in 2013, so her own daughter could learn how to ride a bicycle. She continues organizing and fund-raising for it each year. Other Massachusetts camps are now offered in Scituate, Groton and Upton. The Arlington camp was held this week at Ottoson Middle School on Acton Street, with help from volunteers. Each rider requires several volunteers to help steer, guide and direct. Volunteers included students who were on school vacation, longtime cyclists who wanted to help and town board members.
Attorney Ronald Gluck visited on "Tandem Tuesday," when the students learn to ride on a tandem bicycle, with a trained instructor guiding them on back. This allows them to build strength and become more comfortable with riding.
"Seeing the smiling faces of these new bike riders as they rode around the gym was something to behold," Attorney Gluck said. "It was a pleasure to visit."
Breakstone, White & Gluck will donate more than 2,500 bicycle helmets to youth in Massachusetts this year through its Project KidSafe initiative. Our goal is to help educate children and families on the importance of wearing a bicycle helmet and how to properly wear one. This is the third year of our program and by year's end, we will have donated more than 5,000 helmets to children to help them ride safely. To learn more, visit our Project KidSafe page or our bike safety page.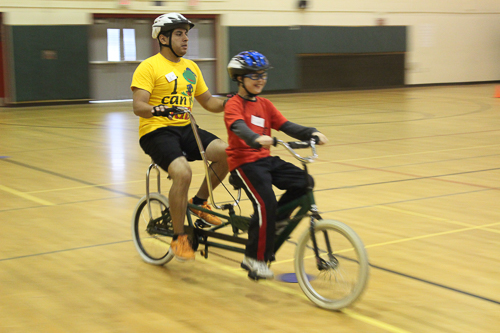 Instructor from the national iCan Shine organization riding on a tandem bicycle with a student at the Arlington iCan Shine bike camp.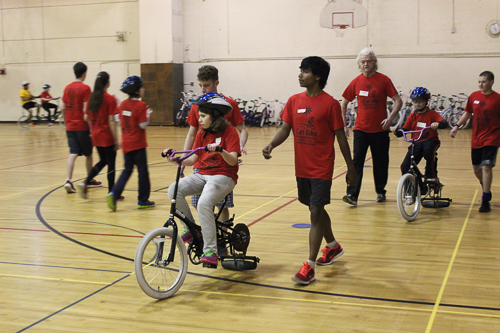 A rider makes her way around the gym. She is riding a bicycle with so-called rainbow rollers on the back, the first step toward learning how to ride a bicycle. Volunteers walk along.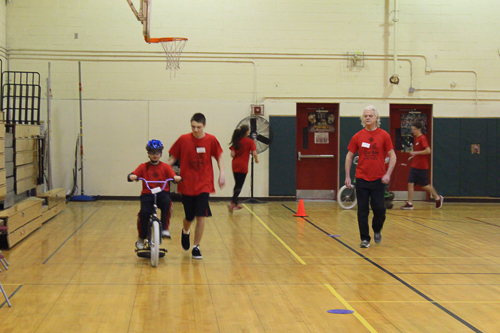 A bicyclist making their way around the gym with support from volunteers.