General Motors (GM) has been fined $35 million for waiting a decade to recall vehicles with faulty ignition switches. The defects have now been linked to 13 deaths.
Attorney David White of Breakstone, White & Gluck appeared on Fox 25 TV in Boston last week to discuss the fine, GM's recent bankruptcy proceedings and his thoughts about handling recall notices.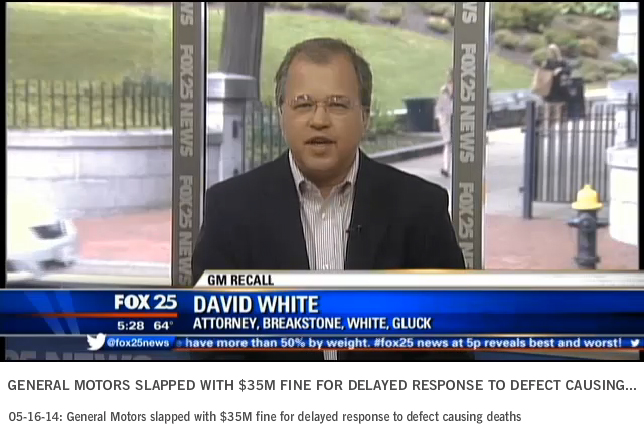 This is an important topic because we have seen many auto recalls in recent years, but 2014 may set the record, according to this Los Angeles Times article.
White said the fine is the first step in a long process ahead.
"Really this is just a slap on the wrist for the corporation," White said. "It's a civil fine. It's the maximum civil fine that they could be exposed to at this point, but GM is looking at years of investigation and probably… maybe even billions of dollars of fines down the road."
The federal government is sending a strong message that companies need to act within 5 days of learning of safety defects, as required by law, White said.
"Hopefully other automakers get this message and they tune into the need for greater safety, greater attention to safety," he said. "When they do find a defect, they come right out and say here's our defect, here's our concern so consumers can get notice of it promptly and get it fixed."
Read More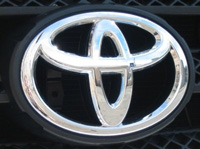 Toyota agreed last week to pay a record $1.2 billion criminal penalty for misleading consumers and the government about unintended acceleration in its vehicles. This safety defect and others have resulted in numerous injuries and deaths. Over 10 million Toyota vehicles have been recalled so far.
This is the largest criminal penalty ever imposed on a car manufacturer. As part of the agreement, the Justice Department charged Toyota with wire fraud but deferred the criminal charge for three years while the company submits to government monitoring.
We have been reading about Toyota's safety defects for many years now, along with the more important violation of trust: the Japanese automaker repeatedly failed to warn the public about safety problems. CNN reported last week that the company "at one point boasted internally about saving $100 million in costs by avoiding a full safety recall."
To date, Toyota has paid out more than $66 million in fines for not immediately reporting defects. Several of these fines have been record-breaking. In 2010, the National Highway Traffic Safety Administration fined the company a record $16 million for its delayed response in notifying the government about defects. In 2012, the NHTSA fined the company an additional $17.4 million.
The company has faced numerous injury and wrongful death lawsuits. In addition to sticky pedals and unintended acceleration, unsecured floor mats and other equipment have caused safety hazards. Last October, an Oklahoma jury decided that defective electronics were to blame for a car accident which killed a woman and seriously injured another person. Toyota was ordered to pay $3 million in damages.
As for Toyota, U.S. Attorney General Eric Holder told the Detroit Press: "Put simply, Toyota's conduct was shameful. It showed a blatant disregard for systems and laws designed to look after the safety of consumers. By the company's own admission it protected its brand ahead of its own consumers."
Still, consumers have continued to buy Toyota. The company was the top-selling automaker in 2012 and 2013, selling 9.98 million vehicles in 2013.
Related:
Toyota to pay $1.2 billion in settlement with U.S. over recalls, CNN.
Read More