General Motors' $35 Million Fine Starts Years of Investigations, Wrongful Death Lawsuits
General Motors (GM) has been fined $35 million for waiting a decade to recall vehicles with faulty ignition switches. The defects have now been linked to 13 deaths.
Attorney David White of Breakstone, White & Gluck appeared on Fox 25 TV in Boston last week to discuss the fine, GM's recent bankruptcy proceedings and his thoughts about handling recall notices.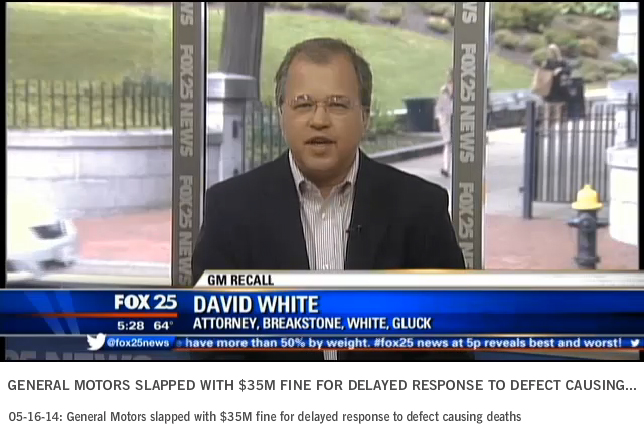 This is an important topic because we have seen many auto recalls in recent years, but 2014 may set the record, according to this Los Angeles Times article.
White said the fine is the first step in a long process ahead.
"Really this is just a slap on the wrist for the corporation," White said. "It's a civil fine. It's the maximum civil fine that they could be exposed to at this point, but GM is looking at years of investigation and probably… maybe even billions of dollars of fines down the road."
The federal government is sending a strong message that companies need to act within 5 days of learning of safety defects, as required by law, White said.
"Hopefully other automakers get this message and they tune into the need for greater safety, greater attention to safety," he said. "When they do find a defect, they come right out and say here's our defect, here's our concern so consumers can get notice of it promptly and get it fixed."

About Breakstone, White & Gluck
The Boston product liability lawyers at Breakstone, White & Gluck have more than 100 years combined experience handling wrongful death and injury cases involving defective and unsafe products. If you or a loved one has been injured, it is important to learn your legal rights. For a free legal consultation, contact us at 800-379-1244 or 617-723-7676 or use our contact form.