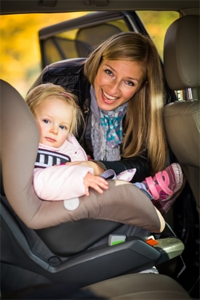 Motor vehicle accidents are a leading cause of injury and death for children. A properly installed child safety seat reduces the risk of injury by approximately 80 percent and of death by 28 percent, compared to children in seat belts alone.
Child safety seats are required in Massachusetts and every other state. They are one of the first steps a parent takes to protect a child when they leave the hospital and get in the car. But they are hard to use and many parents struggle even as children get older.
Nearly 3 out of 4 children are not properly fastened in their car seats, according to a recent National Highway Traffic Safety Administration (NHTSA) survey. If a child safety seat is not properly installed, it cannot fully protect a child in a car accident.