Posts Tagged '"Boston motor vehicle accident attorneys"'

Attorney Marc L. Breakstone was quoted as a legal expert in a Boston Herald article titled "In Driver's Seat With Insurance" (March 31, 2017). NuTonomy, the self-driving car company now testing its hands-free technology in Boston, has taken out a $5 million insurance policy to guard against lawsuits. Earlier this month, a self-driving Uber vehicle was involved in a car accident in Tempe, Arizona. Police found the Uber vehicle was traveling at 38 mph, below the speed limit, when the collision occurred and was not at fault. While there were no serious injuries, the accident has raised concerns.
Attorney Breakstone was asked whether the City of Boston could be held liable if there is an accident involving NuTonomy. He said no, but read his full answer.
Attorney Reza Breakstone has written on the topic of self-driving cars and the legal questions they raise. In 2016, he co-wrote an article titled, "The Self Driving Car: Science Fiction Becomes Reality, Creating a Legal Quandary," for The Litigator, the official publication of the Capital City Trial Lawyers Association in Sacramento, California.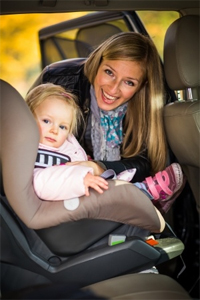 Motor vehicle accidents are a leading cause of injury and death for children. A properly installed child safety seat reduces the risk of injury by approximately 80 percent and of death by 28 percent, compared to children in seat belts alone.
Child safety seats are required in Massachusetts and every other state. They are one of the first steps a parent takes to protect a child when they leave the hospital and get in the car. But they are hard to use and many parents struggle even as children get older.
Nearly 3 out of 4 children are not properly fastened in their car seats, according to a recent National Highway Traffic Safety Administration (NHTSA) survey. If a child safety seat is not properly installed, it cannot fully protect a child in a car accident.
Child Passenger Safety Week
Child Passenger Safety Seat Week, sponsored by the NHTSA, began last weekend and runs through next Saturday, Sept. 19th, which is also National Seat Check Saturday. We encourage parents to have your child safety seat checked. Check your local newspaper or social media for car seat check events near you. Here are other resources:
Websites for Parents to Visit
Massachusetts Child Passenger Safety Events

Child Passenger Safety Seat Inspection Sites
Child Passenger Safety Week is also a good reminder to check if your child safety seat has been recalled and for parents to prepare for changes in routine. If someone else picks your child up at school or daycare, you must have a child safety seat available.
Massachusetts' Child Passenger Safety Seat Law
In Massachusetts, children must be secured in child safety seats for the first few years, then booster seats until they are eight years old or over 57 inches tall. Children should always be seated in the back seat of the car, as it is the safest place for them in case of an accident.
Infants. All infants and toddlers should ride in a rear-facing car seat until they are 2 years old or reach the weight and height limit set by the car seat manufacturer.

---

Toddlers/Preschoolers. At this age, children should use a forward-facing car seat with a harness until they reach the height and weight limits set by the car seat manufacturer.

---

School-aged Children. The next step is a booster seat. Children must sit in a booster seat in the back-seat until he or she is 8 years old or over 57 inches tall.

---

Seatbelts. Children can then move into a seat belt in the backseat if they are big enough. They should use both lap and shoulder seat belts.
To learn more, visit this guide on child safety seats in Massachusetts.