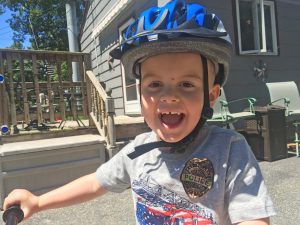 Our Project KidSafe campaign recently stopped in Ashland and Tewksbury, to donate bicycle helmets to kids at fun events geared toward safety.
On June 5th, the Tewksbury Police Department hosted its Annual Bike Safety Rodeo at Tewksbury Memorial High School. Children came out to ride despite some rain early in the morning. They circled the parking lot, ran an obstacle course and enjoyed time with other kids – and the Lowell Spinners mascot, Canaligator. Cyclists of all ages were offered free bicycle safety inspections.
Children who needed a new helmet were offered one from Breakstone, White & Gluck and the Project KidSafe campaign. Tewksbury police officers partnered with us on the donation and  fit the helmets for the kids.
"Please thank the attorneys for us for helping to keep our community safe!" Tewksbury police wrote us.
The Tewksbury Police Department actively works to protect cyclists of all ages with an annual Helmet Reward program. If an officer spots you riding a bicycle and wearing a helmet, you may just win tickets to a Lowell Spinners game. Local businesses provide support for the initiative.
Wearing a bicycle helmet is required for riders 16 years old or younger in Massachusetts, but it is good practice for anyone riding a bicycle. According to the Insurance Institute for Highway Safety, wearing a bicycle helmet can reduce the risk for a serious head injury by 50 percent. Other studies have reported it offers even more protection.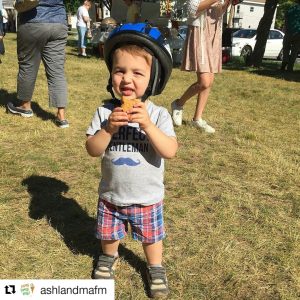 On June 18th, the Ashland Farmers Market celebrated its 5th anniversary. Breakstone, White & Gluck donated 75 children's bicycle helmets for the event. We thank students and members of the community who took time to distribute and fit helmets for the kids.
The Ashland Farmers Market is organized by volunteers, with a goal of providing local farmers and small businesses a venue to sell goods to the community. Visitors can get produce and food there, as well as nutrition tips and suggestions on environmentally friendly practices for home and commuting. The committee has made bicycle safety a priority and this is the third year we have donated bicycle helmets.
About Project KidSafe
Breakstone, White & Gluck has donated over 10,000 bicycle helmets to children in Massachusetts through our Project KidSafe campaign. We launched our campaign in 2013, with a simple goal: to help children ride safely and prevent head injuries. This year, we are proud to donate helmets to children at community events in Boston, Cambridge, Arlington, Somerville, Dedham, Worcester and other communities. We are also making donations to more than 10 local police departments.