Protecting Massachusetts Students Heading Back to School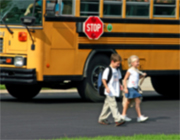 There is much to plan as students return to school each September. Buying new school supplies and clothes often makes the top of the to-do list, but even more important is planning how your child will travel to and from school safely.
Approximately 17,000 children are sent to U.S. emergency rooms each year in school bus accidents, according to a 2006 report in the journal Pediatrics. Some 42 percent of student bus accident injuries and deaths result from crashes. But nearly 25 percent of school bus injuries occur during the everyday activity of boarding and stepping down from the bus.
There are many ways students travel to school: the school bus, parent car pools, walking and bicycling. All of these carry a risk for injuries and accidents – but this can be greatly reduced when drivers and students follow the rules of safety. Here the Boston personal injury lawyers at Breakstone, White & Gluck offer parents tips to keep their children safe:
Avoiding School Bus Accidents:
Most Massachusetts school districts do not have seat belts on school buses, but if yours does, explain the importance of wearing one to your child.
Instruct your child to wait until the bus is completely stopped before trying to board or exit.
Tell your child to stand at least six feet back from the curb as the bus approaches.
Explain to children they should never cross the street behind a bus because it may result in a pedestrian accident.
Wait at the bus stop with young children. If you cannot do this every day, ask another parent to share the responsibility with you.
Avoiding Student Pedestrian Accidents:
If possible, walk to school with your child. Arrange a neighborhood school walk and have parents take turns supervising.
If your child is walking alone, explain that he or she must cross the street in the crosswalk under the supervision of a school crossing guard.
Have your child wear bright colored clothing to avoid car accidents.
Avoiding Student Carpool Accidents:
All children should wear seat belts. In Massachusetts, children ages five to seven or up to 4'9″ tall are required to travel in a child safety seat.
Children under the age of 13 should ride in the back seat.
Explain to children they should talk softly and let the driver concentrate on the road.
Avoiding Student Bicycle Accidents:
In Massachusetts, children and teens age 16 and under are required to wear bike helmets.
Do not allow young children to bicycle to school.
Make sure your child has the appropriate experience on a bicycle and is familiar with traveling the route to school.
Teach children to ride in the same direction as traffic on the right side of the road.
Children and teens bicycling to school should wear bright colored clothing.

The Boston car accident lawyers at Breakstone, White & Gluck promote safety through education. Our injury lawyers have over 100 years combined experience handling traffic accidents, including school bus accidents, pedestrian accidents and bicycle accidents. If you have been injured in a Massachusetts auto accident, contact us today for a free legal consultation at 800-379-1244 or use our contact form.