Attorney Marc L. Breakstone of Breakstone, White & Gluck in Boston has announced a $7.5 million settlement has been reached for an electrician killed in a propane gas explosion at a Norfolk, Massachusetts condominium complex.
Breakstone and the family of William "Billy" Nichols announced the settlement on July 9, nearly two years after Nichols died in the July 30, 2010 propane explosion. Breakstone represented the Nichols family and filed a wrongful death lawsuit on their behalf against EnergyUSA Propane and Smolinsky Brothers Heating and Plumbing.
The wrongful death lawsuit alleged EnergyUSA negligently underfilled a new propane tank at the complex where Nichols had been working. By underfilling the tank, the company caused the chemical odorant to fade, making propane undetectable when it started to leak.
The wrongful death lawsuit alleged Smolinsky Brothers Heating and Plumbing carelessly failed to tighten a connection to the furnace which led to the leak of the undetectable propane gas.
Breakstone called the propane explosion a "terrible tragedy that could easily have been avoided." Nichols, 46, of Blackstone, was buried under burning debris for 97 minutes before he was rescued by local firefighters. He was crushed by smoldering debris, had severe burns over 80 percent of his body and called on rescuers to say goodbye to his fiance and other family members. He was transported by MedFlight helicopter to Brigham and Women's Hospital in Boston, where he died that evening from the burns and injuries.
During litigation, Breakstone said he discovered EnergyUSA Propane sold its assets to a publicly-traded energy company for $66.8 million to avoid the likelihood of paying punitive damages in a jury trial. Breakstone obtained a court-order freeze on the remaining company cash assets.
As a result of Nichols' death, Massachusetts is expected to introduce new regulations this fall which will ensure better safety training for propane delivery personnel as well as require newly installed propane storage tanks be filled to the maximum liquid level to avoid the odorant fade problem that caused this propane explosion.
Click for coverage in The Boston Globe, WBZ-TV, WCVB and Wicked Local.

Click here to read the July 9, 2012 media release.
Click here to read the statement from Norfolk Fire Chief Coleman C. Bushnell.
Read More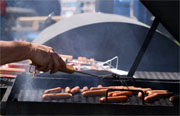 When the warm weather returns, many people look forward to grilling and choose propane gas grills. While these grills offer many advantages, propane is a highly combustible hydrocarbon gas which is compressed into a liquid form and placed inside a tank. It can explode in certain conditions, such as in a fire or with a tank leak.
Some 6,500 barbecue grill fires injure Americans each year, accounting for a property loss of over $27 million, according to the U.S. Fire Administration, a division of Federal Emergency Management Agency (FEMA). The majority of these grill fires result from accidents and explosions related to malfunctioning gas grills.
Now as you set your grill up for the summer is the best time to learn how to properly clean and handle your propane gas tank and grill. The Boston personal injury lawyers at Breakstone, White & Gluck offer these tips to help you grill safely:
Propane is an odorless gas with an odorant called ethanethiol added to help detect leaks. If you are near a propane tank and smell this gas, leave immediately and call your town's fire department.
Read the manufacturer's instructions for your grill and if you need, contact customer support.
Transport your propane tank to the refill station or hardware store in a standing position. Use a box or carrying case.
Drive directly to and from the hardware store or refill facility. Do not make other stops.
Store the propane gas tank outside your home with the grill and do not take it inside for any reason. This includes not taking it inside your garage or porch or leaving it on a deck attached to your home.
Operate your propane gas grill and tank as far away from your home as possible.
Most grills are now made with a safety device that prevents gas flow when the tank is disconnected. But always make sure your propane tank valve is closed when you disconnect to prevent fires and explosions.
If you are having trouble heating your grill, do not keep raising the temperature. Check your manufacturer's manual for instructions or call the company's customer service phone number.
Have propane gas equipment inspected periodically by a professional for possible leaks or malfunctioning parts. This will help prevent an explosion.
Check your manufacturer's manual for cleaning instructions. Turn the grill off and wait until it is cool. Lift the cover, inspect cooking surfaces and remove the cooking grids and spray with mild oven cleaner.
Related:
Propane Safety, National Fire Protection Association
What To Do After An Explosion
Read More