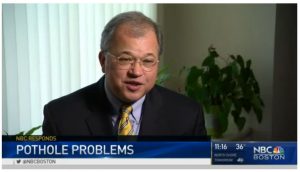 Just as sure as it brings snow, winter in Massachusetts always brings potholes. When drivers hit potholes, their cars can sustain major damage, sometimes totaling in the thousands of dollars. They often want to file a claim against the state or community which maintains the road.
NBC Boston recently aired a story on what rights consumers have if their vehicle is damaged by a pothole (1/24/2017). Attorney David W. White was interviewed and delivered bad news for drivers. Under Massachusetts law, drivers do have 30 days to file a claim against a town or state. But drivers are unlikely to recover any money because the state and towns will claim "contributory negligence."
"If you are one percent at fault, you get zero percent recovery," he said.