Posts Tagged '"Massachusetts product liability lawyer"'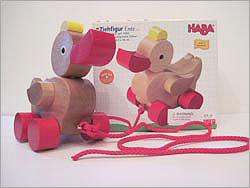 As the holidays approach, the lawyers at Breakstone, White & Gluck, PC urge you to shop carefully to avoid dangerous toys.
Each year, companies recall thousands of toys that put children at risk for injuries such as strangulation, lacerations, falls and death. According to the Consumer Product Safety Commission, the 34 toy recalls in fiscal 2011 were a marked decrease from 172 in 2008, but toy-related deaths rose slightly last year, with 17 children suffering wrongful deaths from defective toys.
In 2010, about 181,500 children were treated in emergency rooms for toy-related injuries. Non-motorized scooters continue to cause the most injuries, while toys with small parts and unsafe cords are also involved in many recalls.
Each year, a non-profit Boston organization, World Against Toys Causing Harm Inc., (WATCH) releases a list warning parents about the hazards of certain toys. The toys present hazards for burn injuries, strangulation injuries, and other bodily injury. This year's "WATCH's Most Dangerous Toys of 2011," includes:

1) The Incredible Shrinky Dinks Maker
Potential hazard: Possible electric shock and burn injuries.

2) Sword Fighting Jack Sparrow
Potential Hazard: Possible eye and other bodily injuries.

3) 'Gigan' Godzilla Figure
Potential hazard: Possible puncture wounds.
4) Twist 'n Sort
Potential hazard: Small parts cause a choking hazard.
5) Power Rangers Samurai Mega Blade
Potential hazard: Blade can cause injuries.
6) Fold and Go Trampoline
Potential hazard: Can cause injuries to people using it, including to the head and neck.
7) Pulling Animal Duck
Potential hazard: Potential for strangulation injuries.
8) School Bus
Potential hazard: Choking hazard.
9) Z-Curve Bow
Potential hazard: Danger to eyes.
10) Stepper 'Low Rise" Stilts
Potential hazard: Head and other injuries from impact.
More than a year after DePuy Orthopaedics recalled two popular hip implants, the large number of patients affected and severity of injuries caused by metal-on-metal hip implants is starting to emerge.
The DePuy hip implant recall has broadened concern over all metal-on-metal hip implants. All-metal hip replacements are now on the track to become the largest and most expensive medical implant defect since 2007, when Medtronic recalled a defective heart device component associated with 7,700 complaints. An estimated 500,000 patients have received all-metal hip replacements.
In August 2010, DePuy recalled two ASR hip implants, the ASR XL Acetabular System, which is available to patients throughout the world, and the ASR Hip Resurfacing System, which is not available in the United States. The hip implants are defective because they cause friction between the metallic ball and socket components which are implanted to replace the femur and acetabulum.
DePuy recalled the defective medical devices after the Food and Drug Administration (FDA) received about 400 complaints in two years from patients. While most hip implants last for 15 years, data released at the time showed one in eight patients required a replacement surgery within five years of being surgically implanted with the defective DePuy hip implants.
The recalled DePuy hip implants can wear down and produce a substantial amount of metallic particles in patients' bloodstreams. Patients reported signs of metallosis, including pain, swelling, problems walking and rashes. These may be symptoms of more serious problems such as the hip implant loosening, bone fractures, joint inflammation, hip dislocation and damage to the tissue, nerves and muscles near the implant.
In the first six months of 2011, the Food and Drug Administration (FDA) received more than 5,000 reports about problems with all-metal hip implants, according to an analysis by The New York Times. The Articular Surface Replacement (A.S.R.) recalled last year by DePuy Orthpaedics accounted for 75 percent of the complaints.
Another recent study in England found that all-metal hip implants were failing early at three times the rate of hip implants made from metal-and-plastic components.
Massachusetts General Hospital in Boston and other medical facilities across the country have reported seeing a growing number of patients requiring corrective surgery, according to The New York Times. In most cases, corrective surgery takes months of rehabilitation. In some cases, complications require longer medical supervision.
In May, the FDA ordered manufacturers of all-metal hips to develop studies determining how widespread device failures are and implications for patients. But it may be several years before results of those studies are available.
If you have a defective DePuy hip implant and are experiencing pain, it is important to contact the hospital where you received your implants immediately. You should also contact an experienced Massachusetts product liability lawyer. The product liability lawyers at Breakstone, White & Gluck of Boston are experienced in handling cases involving DePuy hip implant recalls and other defective medical devices. Call us today at 800-379-1244 or use our contact form.