Defective Products: The 10 Most Dangerous Toys of 2011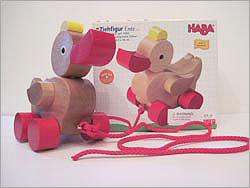 As the holidays approach, the lawyers at Breakstone, White & Gluck, PC urge you to shop carefully to avoid dangerous toys.
Each year, companies recall thousands of toys that put children at risk for injuries such as strangulation, lacerations, falls and death. According to the Consumer Product Safety Commission, the 34 toy recalls in fiscal 2011 were a marked decrease from 172 in 2008, but toy-related deaths rose slightly last year, with 17 children suffering wrongful deaths from defective toys.
In 2010, about 181,500 children were treated in emergency rooms for toy-related injuries. Non-motorized scooters continue to cause the most injuries, while toys with small parts and unsafe cords are also involved in many recalls.
Each year, a non-profit Boston organization, World Against Toys Causing Harm Inc., (WATCH) releases a list warning parents about the hazards of certain toys. The toys present hazards for burn injuries, strangulation injuries, and other bodily injury. This year's "WATCH's Most Dangerous Toys of 2011," includes:

1) The Incredible Shrinky Dinks Maker
Potential hazard: Possible electric shock and burn injuries.

2) Sword Fighting Jack Sparrow
Potential Hazard: Possible eye and other bodily injuries.

3) 'Gigan' Godzilla Figure
Potential hazard: Possible puncture wounds.
4) Twist 'n Sort
Potential hazard: Small parts cause a choking hazard.
5) Power Rangers Samurai Mega Blade
Potential hazard: Blade can cause injuries.
6) Fold and Go Trampoline
Potential hazard: Can cause injuries to people using it, including to the head and neck.
7) Pulling Animal Duck
Potential hazard: Potential for strangulation injuries.
8) School Bus
Potential hazard: Choking hazard.
9) Z-Curve Bow
Potential hazard: Danger to eyes.
10) Stepper 'Low Rise" Stilts
Potential hazard: Head and other injuries from impact.

The Massachusetts product liability lawyers at Breakstone, White & Gluck of Boston are experienced in handling cases involving toy recalls and defective products. If you have been injured by a toy or product, it is important to learn your rights. Contact us today for a free legal consultation at 800-379-1244 or 617-723-7676 or use our contact form.