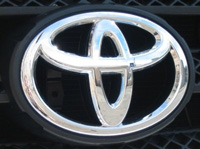 A month after being assessed a record $17.4 million fine, Toyota Motor Corp. has settled one of the first wrongful death lawsuits involving sudden and unintended acceleration by its vehicles.
The Japanese automaker confirmed last week it had reached an agreement with the family of Paul Van Alfen and his son's fiancee, Charlene Jones Lloyd, for an undisclosed amount in the November 2010 accident in which they died, USA Today reported. The automaker said it has also settled another case filed under California's lemon law by a retired Los Angeles police officer.
Van Alfen and Lloyd were killed in 2010 when the Toyota Camry they were traveling in on Interstate 80 in Utah suddenly accelerated. Van Alfen, the driver, attempted to stop the vehicle, but ran through a stop sign and into a wall. His other passengers, his wife and his son, were injured. The Utah Highway Patrol investigated and determined the car accident was the result of a sticking gas pedal.
Other Injury Lawsuits. The settlement comes as a group of lawsuits consolidated in U.S. District Court in Santa Ana, California moves forward. Prior to the consolidation, Toyota had also reached a $10 million settlement in a case involving an auto accident which killed a California police officer and his family.
The officer and his family were killed near San Diego in 2009 when their Lexus accelerated above 120 mph, struck an SUV, rolled off an embankment and burst into flames. The car accident was blamed on a improperly sized floor mat which was trapped in the accelerator.
More Than $1 Billion Settlement. In December 2012, Toyota agreed to a settlement worth more than $1 billion to resolve hundreds of lawsuits claiming economic losses by car owners affected by its recalls. In recent years, the car manufacturer has recalled more than 14 million vehicles due to acceleration problems and brake defects.
$17.4 Million Fine. The National Highway Traffic Safety Administration issued Toyota a $17.4 million fine for safety defects in December 2012, the largest ever imposed. In 2010, the company paid a total of $48.8 in a series of three fines.
Related:
Toyota settles first wrongful death lawsuit, USA Today.
Toyota tackles acceleration lawsuits; questions remain, USA Today.
Toyota reaches $1 billion settlement in acceleration cases, USA Today.
Read More