Breakstone, White & Gluck Kicks Off 2016 Project KidSafe Campaign to Promote Children's Bicycle Safety
Breakstone, White & Gluck kicked off our 2016 Project KidSafe campaign yesterday, continuing our commitment to children's bicycle safety. Attorney Marc Breakstone visited the iCan Shine Bike Camp in Arlington, where we donated bicycle helmets to the 25 riders.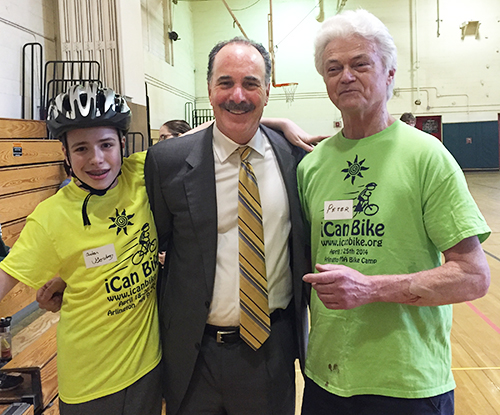 Attorney Marc L. Breakstone of Breakstone, White & Gluck with a cyclist and volunteer at the iCan Shine Bike Camp at the Ottoson Middle School in Arlington, Mass.
This is the third year Breakstone, White & Gluck has supported the iCan Shine Bike Camp in Arlington. iCan Shine is an international non-profit organization, with local organizers who host five-day camps which teach children and young adults with autism and other disabilities how to ride a bicycle.
Most of the cyclists take their very first ride at camp, said Nina Fischer, the local organizer.
"This camp is a dream come true for our riders and we're so thankful to our volunteers and sponsors who help make it happen each year," Fischer said.
Attorney Marc Breakstone said, "We are always pleased to make this donation. Breakstone, White & Gluck is committed to helping children ride their bicycles safely. Wearing a bicycle helmet is the first and most important step and the iCan Shine Bike Camp teaches this valuable lesson at every turn."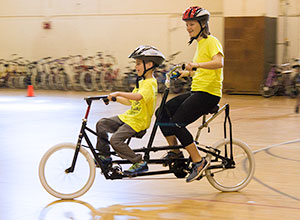 The riders (who are ages 8-25) start the week riding bicycles with specialized rollers on the back, each with help from three volunteers. Yesterday was "Tandem Tuesday." Cyclists got to ride the tandem bicycle for the first time, sitting on the front seat, with an instructor steering from behind. Later in the week, as the cyclists gain strength, they start riding outside.
Breakstone, White & Gluck cares about children's cycling safety. Through our Project KidSafe campaign, we have donated over 10,000 bicycle helmets to children in eastern Massachusetts since 2013.
Our goal is to keep children safe and prevent traumatic brain injuries from bicycle accidents. Cyclists of all ages can help protect themselves by wearing a helmet which properly fits, every time they ride. By wearing a helmet, cyclists reduce their chance for head injury by 50 percent, according to the Insurance Institute for Highway Safety.
Our Project KidSafe campaign continues with donations in South Boston, Framingham and Westborough over the next few weeks.
About Breakstone, White & Gluck
Breakstone, White & Gluck is a Boston personal injury law firm which is committed to the safety of all bicyclists in Massachusetts. We have over 100 years combined experience representing bicyclists injured by the negligence of others. If you, or a member of your family, has been injured in a bicycle incident, please feel free to contact us for a free legal consultation at 800-379-1244 or 617-723-7676 or use our contact form. Thank you and RIDE SAFE!