Our Project KidSafe Campaign Continues in Arlington, Cambridge and Ashland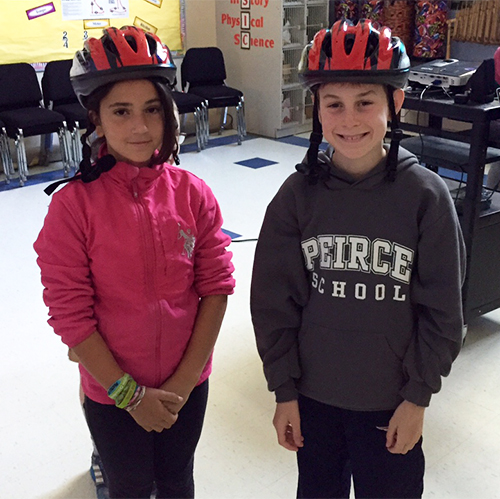 Breakstone, White & Gluck's Project KidSafe campaign recently donated bicycle helmets in Arlington, Cambridge and Ashland. This has been our busiest year yet and we have been enjoying working with our friends, old and new.

Windsor Street Health Center in Cambridge. We recently gained a new partner, the medical students at the Windsor Street Health Center in Cambridge. The helmets will be donated to children who visit the center and need one. Many families served by the health center will not or cannot purchase bicycle helmets on their own, even after doctors explain the risk of a head injury, said Jonathan Blake Watson, a fourth-year Harvard Medical student who works at the clinic.
"It is a wonderful feeling knowing that we will be able to send our young patients home with something that will keep them safe," Watson said.
Pierce School in Arlington. The elementary school's students were focused on being active this year, with monthly "Walk to School Days." Many students participated. When the school set up a bicycle rack, many also started biking. For National Bike Month, the students received a bike safety lesson and guidelines for following the rules of the road. Project KidSafe helmets were distributed to children who needed one and participated in a raffle.

Ashland Farmers Market. We returned to the Ashland Farmers Market for a second year and fitted bicycle helmets for 60 young children. We attended on Sustainability Day and were joined local farmers and other vendors, such as the Massachusetts Sierra Club and community members updating the public on the Upper Charles Rail Trail, a bike path which will pass through Ashland when complete.

About Breakstone, White & Gluck and Project KidSafe
Breakstone, White & Gluck launched Project KidSafe in 2013, with a goal of providing bicycle helmets to children who need one. Since then, we have donated more than 5,000 bicycle helmets and worked with organizations such as Boston Bikes' Roll It Forward, CYCLE Kids, Bikes Not Bombs and Massachusetts Safe Routes to Schools.
Wearing a bicycle helmet is the most effective way for cyclists to prevent head injuries and young children are the most vulnerable. Visit our Bike Safety page and watch the video on how to properly fit a bicycle helmet.